"Perfect Situation" by Weezer
Weezer is an American punk rock band that has been making music since the early 1990's. The band is comprised of Patrick Wilson on drums, Brian Bell on guitar, Scott Shriner on bass, and lead singer Rivers Cuomo, who is commonly known as one of the most prolific songwriters of the past few decades. The song "Perfect Situation" was released as the third single from the band's fifth album, Make Believe, following "Beverly Hills" and "We Are All on Drugs."
Elisha Cuthbert's Weeze bandleader wears black chucks in the music video.
The song is a classic Weezer-style song in that it features a lot of downstrokes with a big intro. Drummer Patrick Wilson has even gone as far as to say that the song "sounds like it could have been on the Green Album", alluding to the fact that it sounds similar to Weezer's classic sound from the 1990's and early 2000's. Lyrically, the song details Cuomo's anger about celibacy and lack of confidence when talking to girls. He has such low self esteem, that he feels that he wouldn't even be able to get with a girl even if she did like him back. It's a common sentiment shared by many people as they grow up, and it makes you realize that the feeling of low self-esteem is not an issue you have to deal with on your own. There are always others who feel the exact same way.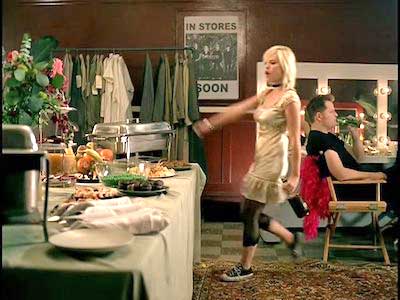 Ready to destroy a green room.
The music video starts out with the band before they were Weezer, when they were simply known as Weeze. This fictionalized history of the band features a female lead singer (played by Elisha Cuthbert) instead of Rivers Cuomo, who now acts as the bands roadie. She is dressed in low cut black chucks throughout the video, solidifying her alt-rock look. The band plays on stage in front of a sold out crowd, but it's clear that Elisha's character thinks the show is about her. After the show is over, the band then spend time in the venue's green room, where she acts like a diva by trashing the place and annoying her bandmates. She tosses clothes and food around, yells, and literally rubs her butt in Rivers' face, all proving that she thinks she's better than the rest of her band. This ends up catching up to her as Rivers ends up replacing her as the frontman of the band, and changes the name to Weezer. It's a fun video that gives a good look at a pre-Weezer version of the band, and shows that having an ego always comes back to bite you in the butt.
She seems to have a bit of a superiority complex with the band.
| | |
| --- | --- |
| | If you have information about specific videos where chucks make an appearance, please contact us at mail@chucksconnection.com. |
Click on the links below to get a new pair of chucks to wear on your band tour.