"Teen Spirit" by SZA
Signed to Top Dawg Ent. (a label home to reigning hip-hop king Kendrick Lamar), American R&B artist SZA had a bit of a coming out party during this past year. Her debut album Ctrl went Platinum and featured such hits as "Love Galore", "The Weekend", and "Broken Clocks". The subsequent tour was a massive success, and she finished off the year with multiple Grammy nominations, including one for Best New Artist. SZA was also featured on the smash hit soundtrack for the Marvel Studios film Black Panther, singing the hook on the song "All The Stars" with Kendrick Lamar. Her song "Teen Spirit" is one of her earlier tracks, released in October of 2013 after she was signed to TDE.
A top dog for your entertainment.
SZA's music is an eclectic combination of R&B, neo-soul, hip-hop, pop, and jazz, and this song is a great example of that. The lyrics cover the constant battle going on in SZA's mind between her "teen spirit" that tells her to be impulsive, and her grown spirit that makes her stop and think of things first. They are the devil and angel on her shoulders telling her how to live and she is struggling to know who to listen to. SZA's vocals are incredible, ranging from high to low, tender to soaring, and everywhere in between. She also has a rasp that is unlike anything else, and really adds an emotional depth to the song.
An LA aesthetic.
The music video is directed by APLUSFILMZ, and takes place in an old house. SZA wears a few different pairs of chucks throughout the entirety of the video, including a black pair with a red and black sweater, and a white pair with a USC football jersey. This particular look is totally Los Angeles in nature, and fits with her new label at the time, TDE. All of her clothes are baggy and free flowing, which fit in with the loose and flowing sound of the song. SZA spends the video alone in this house, which fits well with the isolation she talks about in the song. The way the camera moves also gives off an unsettling and unstable vibe, and the effects used work very well with the echo and reverb that's on the track. It's a very well produced and effective video that highlights the emotions and loneliness conveyed in the song.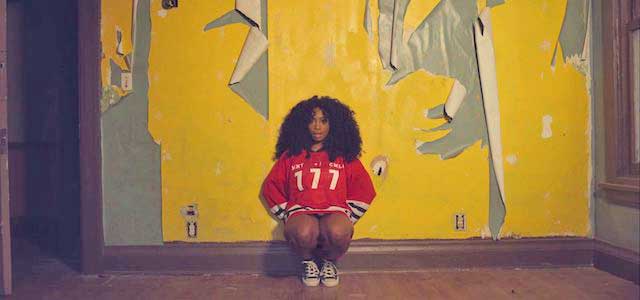 SZA wears both black and white chucks in the video.
| | |
| --- | --- |
| | If you have information about specific videos where chucks make an appearance, please contact us at mail@chucksconnection.com. |
Click on the links below to get a new pair of chucks to show off your teen spirit.