"Babylon" by SZA
SZA is a fast rising American R&B artist that has seen a lot of success over the past few years. After signing with Top Dawg Ent. her debut album Ctrl was certified Platinum and featured such hits as "Love Galore", "The Weekend", and "Broken Clocks". The subsequent CTRL Tour was a huge success, and she finished off the year with multiple Grammy nominations, including one for Best New Artist. Many people might also recognize SZA's voice from the smash hit soundtrack for the 2018 Marvel Studios film Black Panther. Her song "Babylon" is off her EP Z, and was released in April of 2014. There are two versions of this track, as the version that was released on the EP features a verse from fellow TDE artist Kendrick Lamar, while the music video version excludes that verse and features SZA on her own.
Wade in the water.
The song is about is the relationship between SZA and her lover, and how toxic it truly is. She talks about the hate between them, asking if he hates himself and if he hates her. The bridge of the song asks if all this is all worth it, if the pain and suffering of their relationship is worth going through. There are tones of Biblical references in this song, alluding the suffering of this relationship to the crucifiction of Christ and his thorny crown. This can also mean that SZA is willing to die for the sins of this relationship, which then ties into the end of the music video.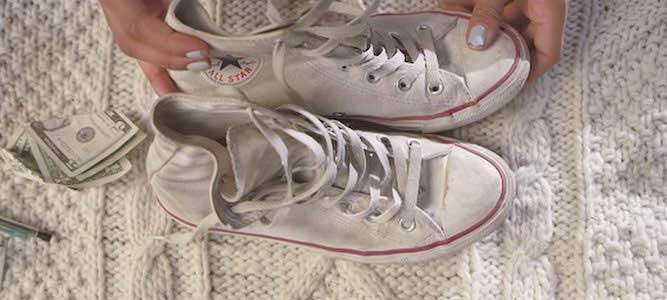 Among SZA's belongings is her pair of optical white high top chucks.
The music video is set near a pond or lake, and features SZA slowly undressing on its shores. She first takes off her jacket and lays it down on the dirt as a blanket. We see her place down her belongings on the jacket, and these include a bottle, some cash, her rings, and a note of some kind. She then takes off her worn out, white chucks and places them neatly on the jacket as well, alone with her jeans. She's left in nothing but a long, white shirt and a pair of white socks. She then walks into the pond until she's about waist deep, at which point she looks back one last time at the camera that's still on the shore. She then turns and submerges herself completely in the water, and she stays under until her lifeless body floats back to the top. Someone comes across this scene and discovers her stuff, and reads the note. It says "Gone Fishin". This suicide can be viewed as a literal suicide due to being fed up with her relationship and this world, or you can look at it as a symbolic baptismal that will lead to a rebirth of sorts. Both interpretations are in line with the song's lyrics, matching with the Biblical overtones and bad relationships, making this a very thought provoking video.
SZA lays down her belongings one last time.
| | |
| --- | --- |
| | If you have information about specific videos where chucks make an appearance, please contact us at mail@chucksconnection.com. |
Use the links below to get yourself a new pair of optical white chucks.