"One Sweet Day" by Mariah Carey and Boyz II Men
As the 1980's came to the close, R&B music ended a decade that was filled with incredible change and drama. Michael Jackson broke every record that could be broken when it came to sales and superstardom, New Edition broke out of Boston to spawn the careers of Bobby Brown and Bell Biv DeVoe, and Whitney Houston showed the world what being a vocal diva really meant. As the 1990's came along, two acts quickly became the undisputed vocal powerhouses of R&B: Mariah Carey and Boyz II Men. Carey, an incredibly gifted and beautiful singer from New York, was releasing her fifth studio album when she collaborated in 1995 with Boyz II Men, a Philadelphia born, male R&B group much like the Motown groups of yesteryear, on the song "One Sweet Day".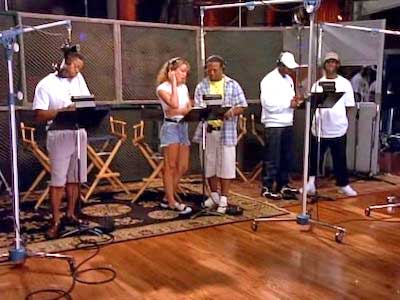 What a grouping of singers!
The track is a longing ballad about loved ones that have passed away. Mariah has said that she wrote this song as a tribute to friend and collaborator David Cole, who died due to complications from spinal meningitis brought on by AIDS in 1995. This subject matter fits the oncoming vocal onslaught from Boyz II Men and Carey perfectly. They show off their individual and group vocal prowess in spades on this song, filling the time with runs, harmonies, and solos that are beautiful and touching. The end of the song is especially incredulously filled with vocal runs from Mariah and exquisite harmonies from the Boyz. The bass-y tones from the Boyz accent Mariah's incredibly high, whistle register reaching vocals.
Mariah hits that note that only she can hit.
The music video begins with Boyz II Men arriving in a private studio where Mariah Carey is waiting in a white crop top, daisy dukes, and black low-top chucks. Mariah has that All-American, girl next door, bombshell look going and the chucks are a big part of that. The setting is low-key and the general vibe of the video is that everyone is so excited to be recording this song.The whole video is the two acts performing the song in the booth together, cut with shots of them hanging out together in what looks like the studio's green room. We also get a cameo from Mariah's adorable dog, who also looks thrilled to be there. Overall, this understated video actually fits the song well as the viewer/listener's focus should be on the lyrics and incredible vocals of the song, and this video does not take away from either of those.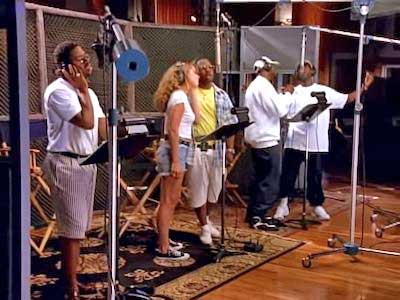 Mariah Carey wears black low top chucks in a girl next door ensemble throughout this video.
| | |
| --- | --- |
| | If you have information about specific videos where chucks make an appearance, please contact us at mail@chucksconnection.com. |
Use the links below to get a new pair of chucks for that All-American look.