"The End of the Game" by Weezer
Weezer is an American punk rock band that has been together since the early 1990's. Currently consisting of Rivers Cuomo (lead singer), Patrick Wilson (drums), Brian Bell (guitar) and Scott Shriner (bass), the group is known for their catchy songs and their place in bringing about the alt-pop revolution in the late 1990's. They recently announced a world tour called "The Hella Mega Tour" that will see the band take the stage with fellow legendary bands Green Day and Fall Out Boy. This is all leading up to the release of their 14th studio album, Van Weezer. The song "The End of the Game" is the first single off that album, and was premiered on Jimmy Kimmel Live!.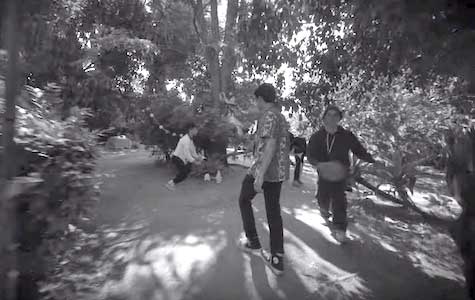 The video is shot primarily with shaky cam and in black and white.
According to Rivers, the song actually features 100 guitar tracks as the band wanted to go full in with guitars after the last album (2019's Black Album) did not feature any. This makes the track much different from the band's more recent music which has had a more mellow and pop friendly sound to it. This is much more in tune with the bands earlier work from Pinkerton, which many fans will be excited for.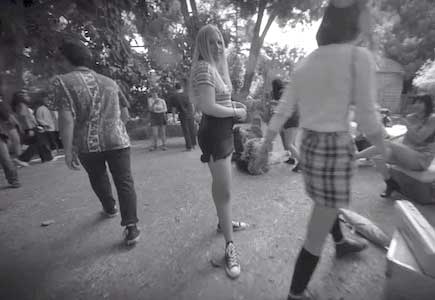 Many people at this backyard party wear chucks, although we really can't tell what color they are.
The music video for the song was released the same day, and it features the American rock band Cherry Glazerr, even though they are not featured in the song. The video starts out being filmed with shaky cam, and in black and white. We enter a backyard party where many people are wearing chucks and flannel, firmly cementing that this is a Weezer kind of party. We eventually make it into the house where people are going crazy over a performance by Cherry Glazerr. The camera finally steadys, goes into color, and faces back at who is behind the point of view we've been seeing. It's an alien wearing a yellow beanie, blue jacket, and baggy pants. He's taking in the scene when what appear to be government agents. The alien hides behind a speaker and, to his surprise, everyone at the party gets the agents to leave. He parties some more, feeling at home, but eventually heads back to space when his ride arrives. This video is a fun E.T. tribute that doesn't take away from the song at all and highlights how music can bring beings from all over the universe together.
Whoa buddy, this party is PG!
| | |
| --- | --- |
| | If you have information about specific videos where chucks make an appearance, please contact us at mail@chucksconnection.com. |
Use the links below to get a new pair of chucks for your backyard party.