"Any Kind of Guy" by Big Time Rush
Big Time Rush was an American pop music boy band formed in 2009 as part of a new wave of fresh on-screen talent for Nickelodeon. Consisting of Kendall Schmidt, James Maslow, Logan Henderson, and Carlos Pena Jr., the group were the stars of the Nick TV series Big Time Rush. The show ran for four seasons from November 28, 2009 to July 25, 2013, with the first episode featuring one of the group's biggest hits, "Big Time Rush". The band would go on to release three studio albums which all achieved commercial and critical success. The band disbanded in 2014 to pursue other projects, but they hold a special place in the hearts of many who followed them religiously as pre-teens. The song "Any Kind of Guy" was a bonus track on the international release of their debut album, and came with a music video that was heavily featured on Nickelodeon programming.
Carlos wears grey chucks in this music video.
The song is about the boys singing their hearts out to a girl, but being unable to get her attention. They then sing about how they can be any kind of guy she wants them to be, as long as it's the kind of guy who ends up with her. The song shows off the band's ability to pair high energy vocals with catchy hooks, which explains their incredible popularity.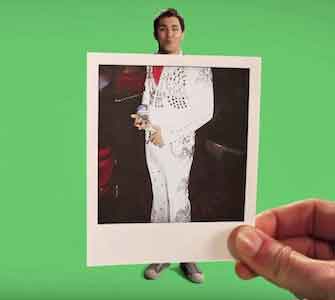 A little Elvis minus the blue suede shoes.
The music video begins with a pair of disembodied hands holding up Polaroid pictures of every member of the band, and then with a flick they appear in front of brightly colored, pastel backgrounds. They're dressed in darker colors, but are staying true to their typical styles with Carlos wearing a pair of grey chucks to go with his grey sweater, preppy look. They begin serenading a mystery girl, letting her know they can be any kind of guy she wants them to be. A hand appears in front of the camera and holds up pictures of different outfits that help show off the different kinds of guys they can be, including a football player, a pilot, and a doctor. The hand finally gives the guys different outfits, including putting Carlos in a bookworm outfit. This outfit still uses his grey chucks, which highlights just how versatile Chuck Taylors can be when it comes to being used for different looks. The video ends with the guys shedding their crazy outfits for their normal looks, showing how in the end it's best to just be yourself.
Bookworm Carlos wears chucks just as well as everyday Carlos.
| | |
| --- | --- |
| | If you have information about specific videos where chucks make an appearance, please contact us at mail@chucksconnection.com. |
Just be yourself. Use the links below to get a new pair of chucks to wear.