"All for Us" by Zendaya
Euphoria is an HBO coming of age, teen drama that stars former Disney Channel star Zendaya. The show premiered after the finale of HBO's biggest show ever, Game of Thrones. The show became an immediate hit on the internet and was one of the most talked about shows of the summer. The song "All for Us" is actually a cover of the Labrinth song of the same name from his upcoming album. This version is sung by Zendaya's character Rue in the finale of the show's first season.
Zendaya's character Rue wears black chucks throughout most of the first season of Euphoria.
In the show, Rue is a 17-year-old recovering drug addict, struggling to find her place in the world. She started to use drugs while her father was in the hospital, and ultimately become an addict after his death. She came to the belief that she couldn't find happiness or love without the drugs, and this song alludes to this when she sings that she is "taking it all for us", and that she's "doing it all for love." These lyrics paired with the chanting choir and Zendaya's emotional vocals make this track a gut punch that can stand on its own out of context from the show, and truly powerful when paired with the story of Rue.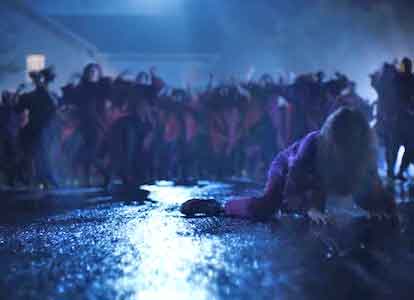 Rue falls before rising over the choir behind her.
Zendaya said in her 73 Questions interview with Vogue that her chucks are her most used piece of wardrobe, and she's incorporated that personal style into Rue's style on the show. Throughout most of the first season Rue can be seen wearing a pair of black high top chucks, and in this scene they're paired with her signature red hoodie. The video begins with Rue waking up from another night of doing drugs. She stumbles through her home, crashing into walls and falling onto her mom. However, her mom doesn't see her and neither does her sister as she seems to be more a ghost to them than actually there. She makes her way outside where she is lifted and thrown into the air by the choir, all dressed like her. This offers an incredible shot of Zendaya being thrown into the air over and over again, almost convulsing over this mass of people. The video then ends with Rue falling into the pile, perhaps symbolizing her falling into her old ways once again. This scene was a huge part of the buzz that surrounded Euphoria's Season 1 finale, and it's not hard to see why. With a powerful song and incredible visuals, the video for "All of Us" makes for the perfect climax to what was a buzz worthy first season.
This shot became one of the signature moments from the show's first season.
| | |
| --- | --- |
| | If you have information about specific videos where chucks make an appearance, please contact us at mail@chucksconnection.com. |
Give yourself some euphoria. Use the links below to get a new pair of chucks to wear.