"So What?" by Vince Staples
Vince Staples is one of hip-hop's most charismatic and unique personalities. Known for his witty lyrics and unabashed demeanor, Vince has quickly become one of the rap games most well known voices since his big label debut back in 2015. He's had numerous guest features, been on the soundtrack to an Academy Award winning film, and been the spokesman for Sprite. He's even partnered up with Converse to release his own line of chucks. With new music on the way, the aptly titled "The Vince Staples Show" debuted on August 22nd, 2019 on YouTube. The show acts as both a continuous narrative and music videos for singles from Staples' upcoming album, also titled The Vince Staples Show. The first episode is for the track "So What?", and is directed by Calmatic.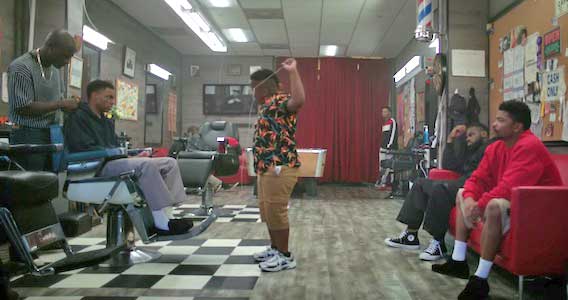 Vince is in a bad situation here.
The video begins with Vince waking up to a phone call from someone who appears to be his manager. She tells him that Malia Obama wants him to perform at her birthday bash, and he agrees for a hefty price. Only one problem though: he needs a haircut bad and black barber shops aren't usually open on Mondays. However, his mover tells him there's one open up in Pasadena, so Vince heads out. He arrives and gets his ear chatted up by barber Duane Finley. All is going well until Vince notices two dudes dressed in red colors. He immediately knows they're Bloods, and Vince has very well known ties to the Crips from his lyrics. He tries to avoid their gaze but a boy takes his earphones out which blasts his pro-Crip music to this Blood barbershop.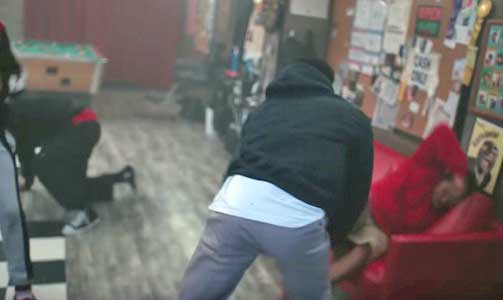 Vince beatin 'em down!
Naturally, a fight breaks out and we get a better look at the differences between Vince and the two guys. He's dressed in all grey and house slippers, while they're dressed in red & black with chucks on. Both outfits are very appropriate for Los Angeles, but one is obviously better to fight in. The song "So What?" blasts as this fight unravels, giving the awesome choreography a hard hitting soundtrack. The Bloods beat Vince up pretty good, but he ends up walking away after knocking the guy wearing chucks out a window. He moves on without finishing his haircut, and we can find out what happens next on the next episode of The Vince Staples Show.
The bigger they are the harder they fall, even if they're wearing chucks.
| | |
| --- | --- |
| | If you have information about specific videos where chucks make an appearance, please contact us at mail@chucksconnection.com. |
Use the links below to get a new pair of black high top chucks to wear.