"You and I Both" by Jason Mraz
Jason Mraz is an American singer-songwriter who has moved past a genre that typically doesn't allow for mainstream success. Five of his six studio albums have reached the Top 10 on the Billboard charts, and he's had major hit singles like "I'm Yours", "The Remedy (I Won't Worry)", and "I Won't Give Up". HIs song "You and I Both" was the third and final single from his debut album Waiting for My Rocket to Come. The song is compositionally similar to many of Mraz's songs in that it's heavily focused on the guitar and his light, nasally voice. The song is very much in the vein of the early 2000's pop rock sound, similar to other acts like Maroon Five and John Mayer.
Jason Mraz wears black chucks in this video.
The video takes place in an everyday bank, where Jason is standing in line with a pink piggy bank. Jason is at the bank so he can talk to the beautiful bank teller that he is obviously crushing on. However, for two days he's unable to reach her before her shift is over, but on the third day he's able to get a note to her. Unfortunately, the note says "GIVE ME WHAT I WANT" which is not something you should be telling a bank teller. One day he's dressed in a baby blue shirt, red velvet sweats, plaid fedora, and black chucks. It's an incredible 2004 era outfit, and they only get more ridiculous as the video goes on.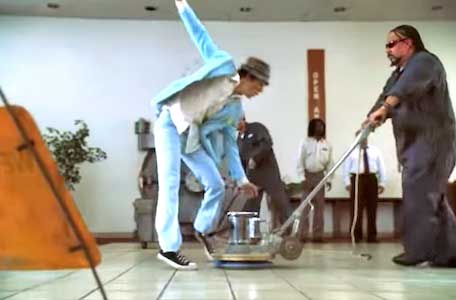 The perfect outfit to avoid the police in.
The alarm goes off because everyone believes Jason is here to rob the place, and the whole bank breaks out into dance. Jason, now in a bright blue suit and chucks, attempts to evade the cops by weaving through the dancing crowd. He's eventually caught though, and he's taken away to jail as the teller watches on. He ends the video being released from jail, and returning to the bank to find the teller. He looks in the window but doesn't see her. He turns around to find she has pulled up in a car behind him, and they drive away together as the video ends with heart frame around the car as it drives away. This is a fun video that really shows off Mraz's personality, and offer a fun look at the state of fashion in 2004.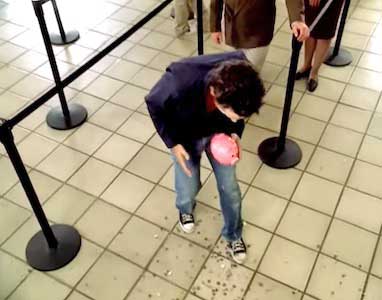 Never bring loose change to a bank when you're trying to ask the teller out.
| | |
| --- | --- |
| | If you have information about specific videos where chucks make an appearance, please contact us at mail@chucksconnection.com. |
Use the links below to get a new pair of black high top chucks to wear.