"Prima Donna" by Vince Staples
Vince Staples is one of hip-hop's most charismatic and unique personalities. Known for his witty lyrics and unabashed demeanor, Vince is one of rap's most well known voices, and always brings something new and interesting to any project he works on. He's had numerous guest features, been on the soundtrack for Spider-Man: Into the Spider-verse, and had a run of hilarious Sprite commercials. He's even released his own line of chucks to celebrate the shoes connection to West Coast hip-hop and his place in it. His song "Prima Donna" was released in August, 2016 off the EP of the same name. The track features a guest verse from ASAP Rocky, which is the first time the two have collaborated.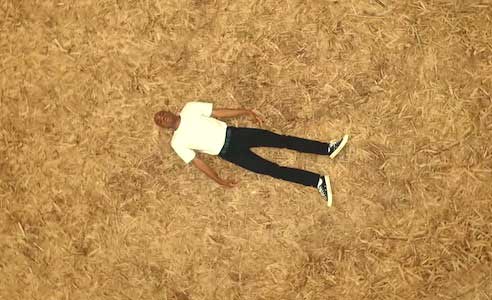 Vince wears black and white low top chucks with his black and white clothes in this video.
The EP is actually a concept project that is centered around a rapper committing suicide. This particular section of the project is a musing about fame and the effect it has on one's mental state. The song boils down to what is real and what is not when you reach the level of fame that the rapper in this story has. The true Prima Donna comes out when Vince refers to himself as a "star" and if people are going to be "conversing" with him it better be about money. This clever wordplay is a reference to Vince's regular wearing of Chuck Taylor All Stars, and highlights the character's mind set is in regards to who he talks to.
Sometimes fame can go to your head.
Always one to go the extra mile, the music video for this song is actually a near ten minute short film that only features the song for a short bit. The video begins like a typical, flashy rap video with Vince rapping in front of a blinking LED board while bikini-clad women dance next to him. He's dressed in a white tee, black pants, and black chucks, and is generally disinterested in what's going on around him. Then the director yells cut and that video ends, but the real story begins. Vince leaves in a strange man's car, and he ends up at the Prima Donna Hotel. This hotel is an unholy combination of the Overlook Hotel from The Shining and the Hotel California. Vince hesitantly walks to his room, passing the rooms of Kurt Cobain, Jimi Hendrix, Amy Winehouse, and Tupac Shakur. Vince gets mobbed by fans while entering his room, but then wakes up on the floor of a forest. Blood starts pouring out of the back of his head, and it's clear that he shot himself. It's at this point that the actual story of the video is different from what we just saw. This hotel is a representation of Hell, and if you play the video backwards (which fits in with the backwards order of the EP), you'll realize that Vince killed himself, woke up in Hell, and then was taken by the devilish driver to a life of fame and hollowness. This might be Vince's most powerful, symbolic, and real video and it acts as the perfect visual for not only this song but for the whole album.
Waking up on the forest floor wondering where it all went wrong.
| | |
| --- | --- |
| | If you have information about specific videos where chucks make an appearance, please contact us at mail@chucksconnection.com. |
Use the links below to get a new pair of chucks to set your life straight.