"I Rep That West" by Ice Cube
Very few entertainers become well known enough that they can claim a whole city. Elvis has Memphis, Sinatra claimed New York, Pitbull has the 305 down, and many rappers have claimed the city of Los Angeles. However, only one rapper has enough clout to be able to realistically claim the entire region of the "West", and that rapper is Ice Cube. "I Rep That West" is the first single from his ninth album, I Am the West, and while that claim may seem a bit boisterous at first, it's not so crazy when you really think about it. Between being a founding father of West Coast and Gangsta Rap, and starring in the quintessential growing up in South Central movie Boyz In Da Hood, Ice Cube has been a fixture of West Coast culture for over 30 years. He's stayed loyal to the Best Coast and deserves the honor of calling himself the West.
Ice Cube steps out of a lowrider in studded black high top chucks.
The song is sonically anthemic, which fits with its boisterous claim. There's an element of old school G-Funk sounds mixed with this sharp clapping that fits perfectly with bobbing your head while riding down Crenshaw. The chorus reinforces the mantra from Ice Cube that he reps the West, and his lyrics are on point just like they've always been during his thirty year career.
Walking into a duel in style.
The music video was directed by Gabriel Hart, and shot on the Santa Monica beach, along with several places around Los Angeles including the LA Memorial Coliseum and at the Hollywood Sign. In the video, Ice Cube goes back in time to the Old West, arriving in a black lowrider. We see shots of the town's gunslingers and their fancy boots. When Ice Cube steps out of the lowrider, we see he's wearing LA's modern version of cowboy boots: studded Chuck Taylors. These shots coming back to back of each other show how even though the times have changed, the West is still known for its iconic footwear. Ice Cube steals from the locals and comes back to modern times, where he roams the streets of LA with his sons Doughboy (aka O'Shea Jackson Jr.), and WC. This video highlights the most important part of the song: the West, both old and new. It doesn't matter the time or place, wherever Ice Cube goes he will always rep that West.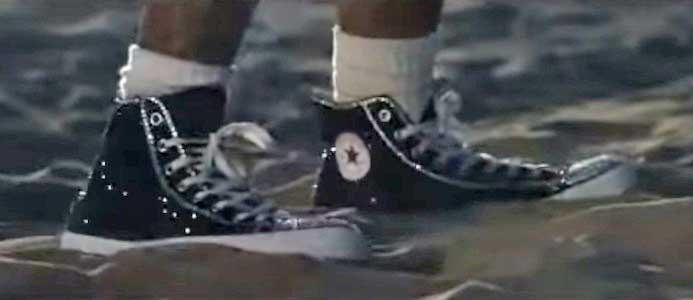 These chucks look just as good in modern times at Santa Monica beach.
| | |
| --- | --- |
| | If you have information about specific videos where chucks make an appearance, please contact us at mail@chucksconnection.com. |
Use the links below to get a new pair of black high top chucks to rep yourself.