"Lost in the Echo" by Linkin Park
To the surprise of many, Linkin Park is one of the most prolific and best selling bands of the past twenty years. Their blending of rap and nu metal created a signature sound which was only bolstered by emotional and raw lyrics that endeared the band to a rabid, worldwide fanbase. Over a career that has over 70 million records sold, two Grammy wins, and seven studio albums, the group is best known for their early songs, such as "In The End", "Paper Cut", and "Numb". The song "Lost in the Echo" is the second single off their fifth album, Living Things, and was released in October, 2012.
Two of the people from the case wear chucks in this video.
The song is more electronic than most of Linkin Park's early catalog, with Mike Shinoda rapping over a smooth beat through the first verse. However, once Chester Bennington comes in on the chorus a heavier, distorted guitar riff comes into play, which fits right in with their well-known sound. The thing that makes Linkin Park so unique has always been the interplay between Bennington and Shinoda, and again their dynamic works really well here.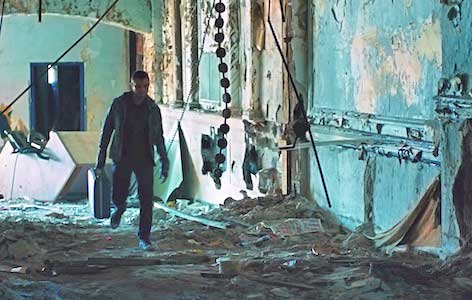 Wearing chucks in the apocalypse 'cause you'll need a good all around shoe to walk through the ruins.
The music video was originally an interactive video that could only be accessed through an active Facebook account. Since then, a non-interactive version has been uploaded to YouTube. The video takes place in a post-apocalyptic future, and opens with a man walking through some ruins holding a briefcase. He's wearing normal clothes, including a blue pair of chucks, which is pretty stark compared to the desolate background behind him. He enters one of the buildings, opens the case, and distributes the photos inside to numerous people. This is where the interactive portion would come into play, with these photos consisting of numerous images from the accessed Facebook account. The people in the video, upon seeing the photos, would scream and then crumble into dust. The non-interactive version replaces these photos with the people in the video, which leads the viewer to believe that those in the photo are no longer there. As for the band, they do not appear in this video except as an easter egg in one of the pictures in the briefcase. This is a pretty emotional video, which is expected from the band. For many who were able to use the interactive feature when it was released, this created a very personal experience.
"Mr. Stark, I don't feel so good."
| | |
| --- | --- |
| | If you have information about specific videos where chucks make an appearance, please contact us at mail@chucksconnection.com. |
Use the links below to get a new pair of chucks for the pandemic.