"Justin Timberlake Medley" by Kurt Hugo Schneider
Featuring MAX and Victoria Justice
Kurt Hugo Schneider is an American music producer and filmmaker who is best known for his collaborations with Sam Tsui and his medley videos on YouTube. MAX is an American singer songwriter who was a nominee for iHeart's Best New Pop Artist in 2019 after the success of his 2018 hit "Lights Down Low". Victoria Justice is an American actress and singer who is best known for starring in the Nickelodeon show Victorious. Together these three young artists have made multiple cover medleys of popular artists' music. They've previously covered Bruno Mars, Maroon 5, and Holiday music. Their cover of Justin Timberlake's catalog was released in June, 2015 and has over 9 million views on YouTube.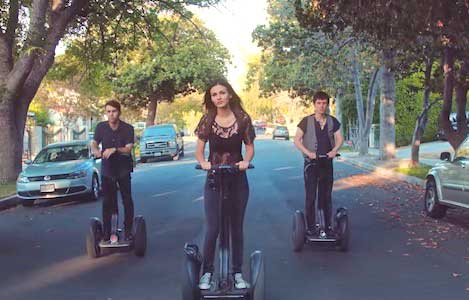 Kurt Hugo Schneider, MAX, and Victoria Justice ride segways in this one take video.
The medley includes music from the Timberlake songs "What Goes Around...Comes Around", "My Love", "Cry Me A River", "Mirrors", "Suit & Tie", "Senorita", "Rock Your Body", "Sexyback", "Dead and Gone", and "Bye Bye Bye". These vastly varying songs are blended together perfectly by Schneider, with the transitions being smooth and exciting. Justice and MAX's vocals also blend very well together, and the two have very good vocal chemistry.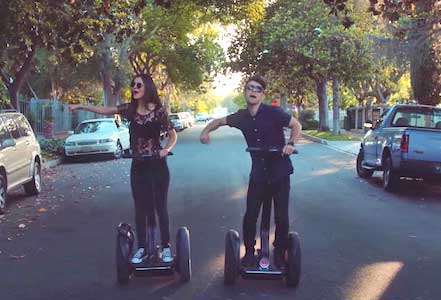 They see us rollin', they hatin'...
The music video is a one take video that was recorded in the Los Angeles suburbs. It opens with Justice, Schneider, and MAX riding segways in the middle of the street before MAX breaks off on his own to start the song with a snippet of "What Goes Around...Comes Around". Justice then comes in from behind a wall, and the two along with Schneider do this dance for the rest of the video. The way that all three glide the segways in and out of frame so smoothly fits really well with the smooth vocals and song mash-ups in the recording. Justice is known for wearing chucks on both the show Victorious, and in her personal life, so it's no surprise that she wears them again for this video. Her blue jeans and black chucks look is classic casual, and perfect for a segway stroll through an LA suburb. This video is fun and impressively shot, using the one take aspect as not just a gimmick, but as a way to show how you can seamlessly blend different songs and voices together.
Victoria makes riding a segway look easy in black chucks.
| | |
| --- | --- |
| | If you have information about specific videos where chucks make an appearance, please contact us at mail@chucksconnection.com. |
Use the links below to get a new pair of chucks to ride on a segway.