"Give It to You" by Julia Michaels
Songland is a competition show on NBC that has amateur songwriters audition for the music industry's biggest stars with an original song for them to record and make a hit. The show has producers Ester Dean, Ryan Tedder, and Shane McAnally as judges/mentors, and has featured artists such as John Legend, Meghan Trainor, Aloe Blacc, Macklemore, the Jonas Brothers, and more. The fifth episode of the second season aired on May 11th, 2020, and featured singer/songwriter Julia Michaels as the guest artist looking for a new hit. After hearing four very different songs from the songwriters, Michaels selected the song "Give It to You", written by Keegan Bost and produced by Ryan Tedder.
Julia Michaels wears black high top chucks in this video.
The song is very much in Michaels' wheelhouse. It has the same kind of personal, low-fi sound of Michaels' most well known song, "Issues". She croons on the chorus with her raw and soulful vocals, and they fit perfectly with Bost's lyrics. The song is about someone who has been through terrible heartbreak, but they now find themselves in love once again with the person they're singing to. They make it known that if they still had their heart, they would give it to them. This idea of a lost heart is a great concept that hints that the singer is not fully recovered from their previous heartbreaks, and therefore can't fully commit to this new person even though she may want to.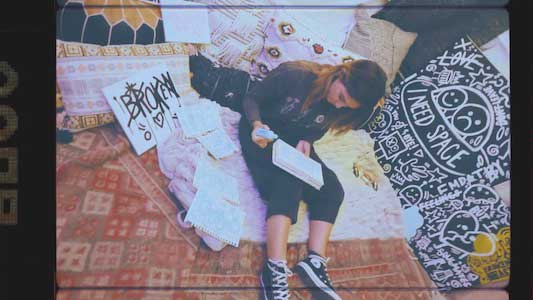 The video cuts to a film grain overlay at times, which makes it feel more like a home movie.
The music video premiered after the song was chosen as the winner on Michaels' episode. It features Michaels in a makeshift recording booth in her home made from blankets and pillows. It very much looks like a homemade fort a child might make. Julia has a microphone, pillows, and a doodle pad in her fort, and she spends the video singing and drawing out her feelings in big blue marker. She's wearing a very casual outfit of sweats, a sweater, and black high top chucks, which just reinforces how comfortable and safe she is in this makeshift studio. This video fits perfectly with the quarantine era we live in, and makes the viewer feel comfy with Julia while she croons for her broken heart she wishes she could give it away.
Julia shows off the emotions she's feeling in these doodles.
| | |
| --- | --- |
| | If you have information about specific videos where chucks make an appearance, please contact us at mail@chucksconnection.com. |
Use the links below to get a new pair of chucks to wear while recording your video.