"Orphans" by Coldplay
If you were asked to name one of the best selling artists of the 2000's, the British rock group Coldplay probably wouldn't be one of the first artists that would come to mind. The band's clean, pop rock sound and activist image has led to them being the butt of many jokes, but they've become a super group over their 25 year career. With over 100 million records sold, and hundreds of sold out arena shows to their name, Coldplay are in fact one of the biggest bands of all time. Their song "Orphans" is the first single off their eighth studio album, Everyday Life. Released on October 24th, 2019, the song was a last minute addition to the album, being recorded during the album's mixing sessions.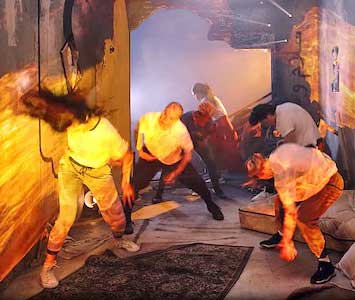 A few of the people dancing with Coldplay wear chucks in this video.
According to Coldplay front man Chris Martin, the song is "about real things in my life, and some of it's about things that I see or we see, and some of it's about trying to empathize about what other people are going through". Specifically the song tackles the Syrian Civil War and the effect it has had on the capital city of Damascus. It showcases the story of a girl named Rosaleen, and her Baba who are now refugees. The song has a lot of familiar elements to a lot of Coldplay's existing catalog, including acoustic guitar and ever present percussion.
Dancing in a war torn room.
The music video begins with showing the development of the song from its earliest roots, which includes the original voice memo from Chris Martin. In this clip, he lays out the tuning of his guitar before playing what would become the song's main riff. We see the various stages of development and recording as lyrics cover the screen, and the band plays the song in various locations. These shots are shot in a heavily stylized fashion which turns to standard video format as the song transitions into the fully polished song. At this point, the band shows up in a spinning room, with a group of people with them, a few of whom are wearing chucks. They all dance and sing together, symbolizing how through the tough times there's still a way to persevere and have fun. The video ends with everyone dancing over a projection of various flowers. The music video won the 2020 MTV VMA for "Best Rock" music video, and it's your pretty standard Coldplay video. There's a call for unity, peace, love, and hope amongst a bright backdrop of different colors and people.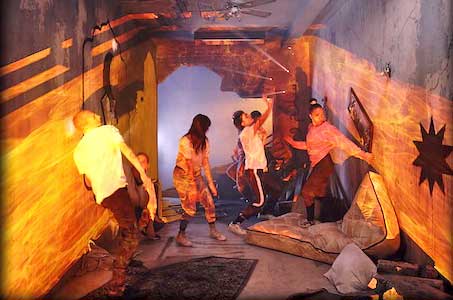 Through the fire there comes a brighter day.
| | |
| --- | --- |
| | If you have information about specific videos where chucks make an appearance, please contact us at mail@chucksconnection.com. |
Use the links below to get a new pair of chucks to wear while recording your video.