"Imported" by 6LACK and Jessie Reyez
Jessie Reyez is a Canadian-Colombian singer-songwriter from Toronto. Known for her raspy vocals and effortless cool factor, Reyez has been on a steady rise over the past few years, with numerous hits both in Canada and the US. Her songs like "Figures", "Apple Juice", "Sola", and "rain" have garnered her a loyal following and some high profile features in films and TV. 6LACK (pronounced "black") is an R&B singer and rapper who has been one of the smoothest and most in-demand features over the last few years. Together, they are a powerhouse vocal duo. Their song "Imported" is the second single of Reyez's debut studio album Before Love Came to Kill Us, and was released on April 19, 2019.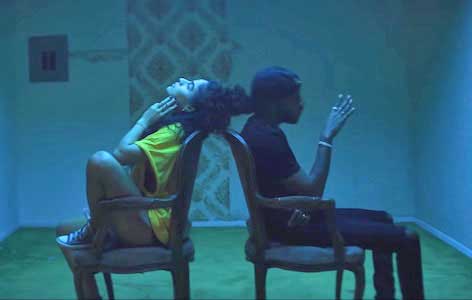 Jessie Reyez loves her chucks.
The song describes a relationship between a boy and a girl, who each have different expectations for each other. They both feel that the way they need to get over each other is to sleep around, and that will get their ex out of their system. According to Reyez, she was "going through it with my ex and when you try to just lay it out and be like, 'Okay, well what are my options here? How can I get over this?' and then that was one of them. And then in Spanish, there's this saying, which translated is a little crude, but it means, 'One screw takes out another screw,' so that maybe somebody else can help you get over someone else." 6LACK's addition to the track really adds another layer of tension and emotion. He and Reyez also have an amazing dynamic together.
This setup with Reyez and 6LACK really hammers home the disconnect between them.
The music video is set in a very sparse house where Reyez and 6LACK are sitting back to back with each other. They trade verses and runs with each other as 6LACK packs up and decides to leave, while Reyez lets out her emotions in a tub. Reyez can almost always be seen wearing chucks in both her videos and personal life, and here is no different. She wears a pair of black chucks through most of this video. This video really visualizes the frustration and pain that these two are going through. The sparse setting also fits very well with the song's instrumentation, allowing the focus to be on the emotions and pain that the two stars are feeling.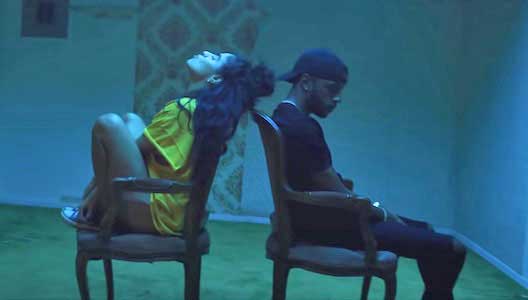 They're in love with somebody else.
| | |
| --- | --- |
| | If you have information about specific videos where chucks make an appearance, please contact us at mail@chucksconnection.com. |
Use the links below to purchase a new pair of chucks that meet your expectations.