"Shake It" by Metro Station
Though it's already half a decade old, Metro Station's "Shake It" has earned a place in our hearts and at every school dance forever. In 2008-2009, this catchy tune dominated all the radio stations, made an appearance in an abundance of movie soundtracks, and accompanied countless commercials. One would think that a song of this popularity would have an awesome music video to match it, but sadly that's not quite the case.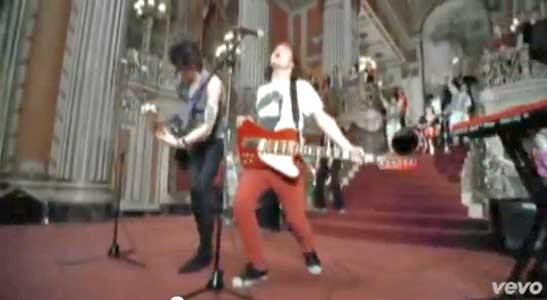 Singer Mason Musso in chucks.
By no means is it bad video. After all, this song defines the word "fun", so of course the video would reflect that. Unfortunately, it just doesn't stand out. It's simply another stereotypical montage of the band performing while people dance. But though it may be unoriginal, you can at least play a game of I Spy: chucks edition.
One of the dancers in the "red" group.
It shouldn't be too hard to spot the chucks when they show up. The video's concept is that different groups are having a dance battle, and there are plenty of shots of members wearing them as they execute some elaborate foot work along with a few backflips here and there. Singer Mason Musso (older brother to Disney star Mitchell Musso) can also be seen rocking out in a pair of low cut black chucks. Fellow singer Trace Cyrus (older brother to the infamous Miley Cyrus) could probably learn a thing or two from Mason, as he sports a pair of boring black shoes. In the end, the video is pretty cliché, but at least chucks help spice it up!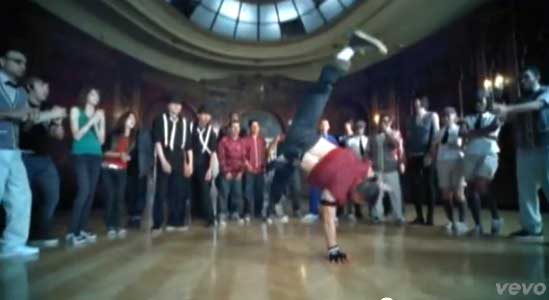 A shot of the entire red group wearing chucks.
| | |
| --- | --- |
| | If you have information about specific videos where chucks make an appearance, please contact us at mail@chucksconnection.com. |
Put on a pair of dancing chucks (click on the thumbnail to order) and head to the nearest dance floor.