"La La Land" by Demi Lovato
Many of us have trouble finding sympathy towards the celebrities that complain about being famous. Maybe it's because we have a tough time putting ourselves in their shoes, after all, to us, having our privacy constantly invaded may seem like a small price to pay in exchange for giant mansions and designer clothes. Or maybe we're just spiteful because deep down, we all wish we could have the chance to be friends with Johnny Depp.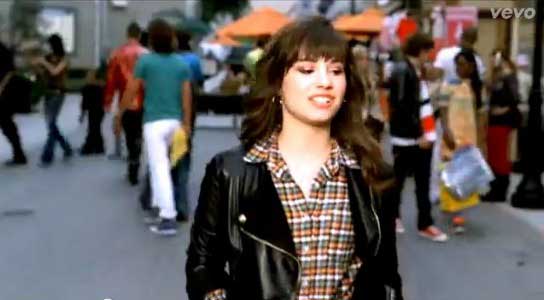 Some paparazzi are lurking in the background…can you spot the ones wearing chucks?
Like many celebrities who are musicians, Demi Lovato's "La La Land" tackles the issue of living a life of fame. However, instead of being negative, she takes life's lemons and throws them straight out the window. Lovato sings about never letting her fame change who she is and if her positive lyrics aren't enough, she's got a quirky video to go along with it.
Lovato in her dress and black monochrome chucks.  
Opening with Demi on a fake talk show, it immediately goes into her walking down the street (with paparazzi hovering around her, of course) with a big smile on her face. The next scene is a red carpet event where she is wearing a formal dress with black chucks (She even sings about it: "Who says I can't wear my Converse with my dress?). She ignores the dirty looks from those surrounding her and strikes a pose while the cameras flash. There is a final setting in which Lovato is dressed in all pink—complete with a hot pink wig—being surrounded by makeup artists. It is then that the song hits its climax and the video flashes between all the settings until finally the viewer is taken back to the talk show where the host gives her words of encouragement. It's fun. It's quirky. It's very Disney Channel, but its message preaching high self-esteem is definitely one that deserves attention.
Demi walking the red carpet.  
| | |
| --- | --- |
| | If you have information about specific videos where chucks make an appearance, please contact us at mail@chucksconnection.com. |
Get yourself a pair of chucks to walk down the red carpet by clicking on the links below.