"All The Small Things" by Blink 182
The early 2000's was an interesting period in music. Pop had begun to swing in a new direction, with mega-stars like Britney Spears and NSYNC blowing up the airwaves. In rock 'n' roll, grunge was on the way out and two new, completely different genres were emerging as fan favorites. One was Nu Metal, with bands like Linkin Park and Limp Bizkit selling millions of records. The other was Pop-Punk. The angsty teen finally had a voice and no other group captured teen angst like Blink-182. The So-Cal pop punk band featuring Mark Hoppus, Tom Delonge, and Travis Barker were one of the biggest bands in music at the time. Their hit song "All The Small Things" perfectly encapsulates the band's angst filled lyrics and penchant for not caring about anything at all.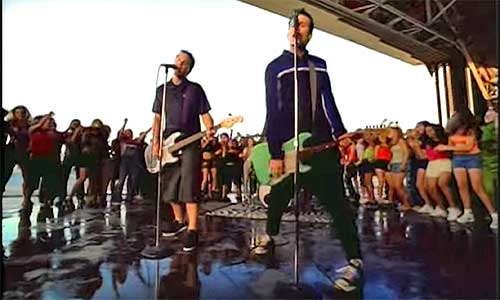 Blink 182 performing on stage, shot 1.
The opening is quintessential Blink. Featuring the three members strutting in front of a private jet, Hoppus gyrating in his underwear, and Delonge doing his best Beyoncé impression. As the video progresses, the debauchery ramps up as the members do their best boy band impression (with Delonge sporting some redneck teeth), Hoppus attempting to shower in a sexy manner and Barker frolicking on a beach with a scantily clad woman. The video seems to make no sense next to the band's so-cal, skater/pop punk sound, but that's Blink 182.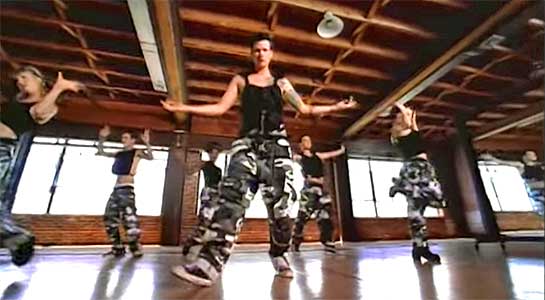 Dance routine in black tanks and camouflage dungarees.
On the shoe front, Hoppus and Delonge split time wearing chucks. With Delonge sporting a pair of black low tops during the performance scenes of the video and during his urban dance routine. Hoppus also sports the same pair during a few scenes of the band performing in a dance studio.
Blink 182 performing on stage, shot 2.
| | |
| --- | --- |
| | If you have information about specific videos where chucks make an appearance, please contact us at mail@chucksconnection.com. |
Get yourself a pair of chucks by clicking on the links below.