"Stressed Out" by Twenty-One Pilots
Twenty One Pilots broke out last year with the release of their fourth studio album, "Blurryface". The song "Stressed Out" is off said album, and reached #2 on the Billboard Hot 100, launching the band into the mainstream consciousness. Although, according to the song's lyrics, that might not be all it's cracked up to be.
All great bands start in someone's living room.
The song's lyrics alternate between the point of view of Blurryface (a character that represents the lead singer's insecurities) and lead singer Tyler Joseph's feelings of intense nostalgia for his childhood. The main message of the song is the wish to regain the innocence of childhood, which existed before his life as an artist in the music industry, and before the troubles of fame took over his life. During the bridge, Tyler's insecurities start to take over telling him he needs to wake up and make the money. It's gotten harder to write songs, and when he does write them, they aren't as fulfilling. Tyler wishes to go back to when it was just him and his friends playing in their houses in Ohio. Music isn't fun any more, it's just a way to make money now. With all these thoughts and voices in his head, it's not hard to see why he want's to return to what he calls "the good ol' days".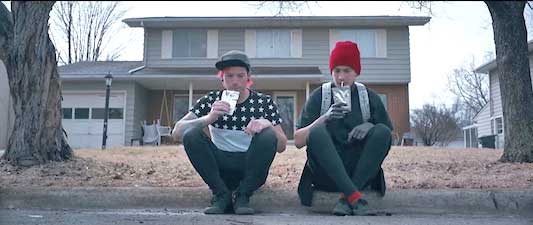 The good ol' days.
In the music video, Tyler is seen riding an adult sized big wheel to his band mate Josh Dun's house to record the song. They then record the chorus in Josh's home before taking a juice box break. Here we see them both wearing all black chucks. Then it's off to Tyler's house to finish recording. While the setting isn't much, it really reflects the sentiment that these times were better than the touring and fame that comes with being a superstar.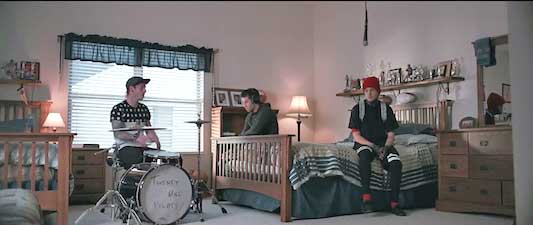 Just like any other bedroom in America.
| | |
| --- | --- |
| | If you have information about specific videos where chucks make an appearance, please contact us at mail@chucksconnection.com. |
Get yourself a pair of chucks to start your music career by clicking on the links below.