"Dang!" by Mac Miller
with Anderson .Paak
Mac Miller has been on the rise for a number of years now. Since his debut album "Blue Slide Park" charted on top of the Billboard 200 back in 2010, he's had prominent guest features on Ariana Grande's "The Way" and has recharted multiple times with his follow up albums "Watching Movies With The Sound Off" "GO:OD AM". With the release of his latest album "The Divine Feminine", and its first single "Dang!", Miller looks to again define himself as an artist that aspires to be more than just another white rapper.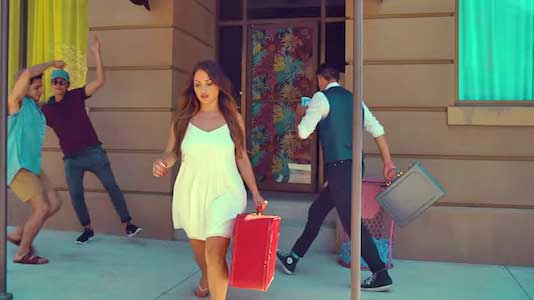 Cool chucks to complement a stylish suit.
The song is about the troubled relationship between Miller and his girl. It delves into how they both make mistakes and they can both drive each other crazy at times, but at the end of the day, Miller doesn't want her to go. He worries that eventually she might choose to leave him for good, but he's somewhat confident that he can keep her with his charm and love. Miller performs a mixture of rap and singing, really crooning at the end of his verses. This makes Anderson .Paak's smooth hook all that more complimentary. Miller's never been the best rapper and he doesn't really have a great singing voice, but somehow he makes this mixture of singing and rapping work.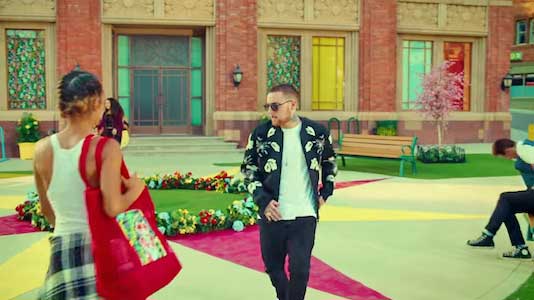 Mac chases his girl past a man wearing black high top chucks.
In the music video, Miller is shown chasing his girl down, constantly singing in her ear about how he can't lose her. He follows her as she makes her way through town, as we see a few people in the background wearing chucks. There's a man in dress clothes wearing the classic black and white high tops, while one of the female backup dancers wears a pair of all-white lows. The video culminates with Miller and his girl getting back together, hopefully for the final time. It's a cool video that flows well with the groovy nature of the song, and features some cool shots of people wearing chucks.
One of the backup dancers in optical white low top chucks.
| | |
| --- | --- |
| | If you have information about specific videos where chucks make an appearance, please contact us at mail@chucksconnection.com. |
Get yourself a pair of chucks to romance in by clicking on the links below.