"My Drive Thru" by N*E*R*D, Julian Casablancas, and Santigold
It's always fun to see multiple artists collaborate on one song. Unfortunately, "My Drive Thru" was a collaboration gone wrong. N*E*R*D's Pharrell Williams, Julian Casablancas of The Strokes, and solo artist Santigold (formerly Santogold) all come together to create one extremely annoying song. It's the type of upbeat tune that will get stuck in your head for a few days until you forget about it completely. Luckily for this song, its video has quite a few redeeming qualities.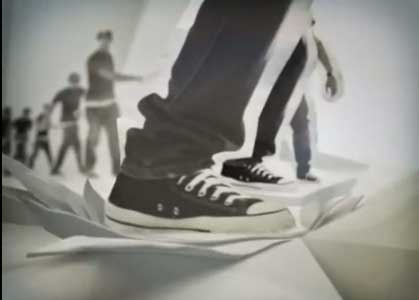 Singer Tyson Ritter falling back into an empty pool.
It has a nice mix of simplicity and complexity, with its all white background and lack of color. All the singers are portrayed as if they were paper cutouts which results in some pretty neat kaleidoscope type effects that are pleasing to the eye.  But what's even more pleasing to the eye is that everyone is wearing chucks! All three of the artists have on basic black chucks that stick out really well, thanks to the black and white color scheme of the video. It's a nice touch that brings the three musicians together.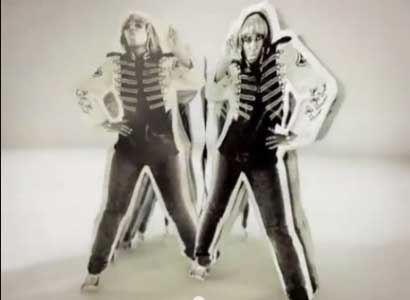 A crowd catching Ritter before he hits the cement.
Putting chucks aside but continuing on the theme of fashion, this video breaks one of the biggest themes in media today: a lack of clothes. Not to say that all videos are like this, but there are enough shirtless men and scantily clad women in other videos for one to safely say that at least half of music videos are overly-sexed. Luckily in "My Drive Thru" everyone is respectably covered but still keeping that "edgy" appeal.
Tyson waking up after bumping his head against a flower pot.
In a nutshell, it's a not so great song with an interesting music video, and though you may disagree, one thing is for certain; there are plenty of chucks.
| | |
| --- | --- |
| | If you have information about specific videos where chucks make an appearance, please contact us at mail@chucksconnection.com. |
Buy some pairs of chucks for your video.