"Black and Yellow" by Wiz Khalifa
"Black and Yellow" is the lead single from Wiz Khalifa's third studio album, Rolling Papers. The song peaked at No. 1 on the Billboard Hot 100, becoming Khalifa's biggest hit to date. This was Wiz's breakout moment, and would lead to him not only continuing with his successful music career, but would also allow him to branch out into film, TV, and various other projects. The song was inescapable back when it was released in Fall, 2010, and is still used in movie trailers like for the new Lego Batman movie, and as sports anthems for teams like the Pittsburgh Steelers.
Khalifa lacing up his chucks.
The phrase "black and yellow" is a reference towards Khalifa's car, a Dodge Challenger Hemi that is black with yellow stripes. According to Wiz, he got the car in those colors as a tribute to his hometown of Pittsburgh, Pennsylvania, whose official city colors are black and gold. This is due, in part, to the city's various sports teams using some variation of black and yellow in their color schemes. Outside of that, the song is lyrically generic, with the typical braggadocio rapping of cars and girls being prevalent throughout. Wiz isn't known for being a lyrical genius or a rapper of substance though so that's par for the course.
Walking down the streets of Pittsburgh.
The music video very much stays true to the lyrics as it mostly features Wiz surrounded by his crew, girls, and cars as he makes his way through his hometown of Pittsburgh. We see Wiz wearing a pair of low top black and white chucks throughout the video, which is unsurprising seeing as Khalifa can often be seen in chucks in the real world. Overall, although it isn't anything special when it comes to substance or lyrics, the song has an extremely catchy hook and a serviceable music video, while giving rise to one of the biggest stars in rap today.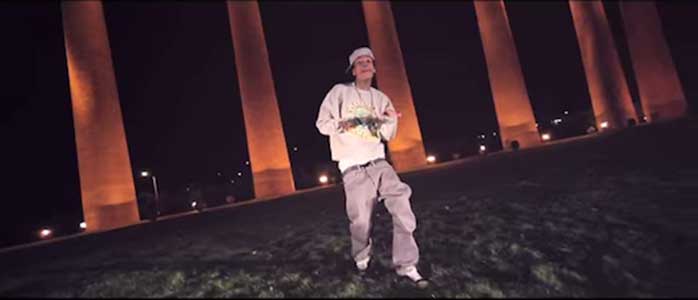 Wiz surprisingly not wearing a lot of black and yellow here.
| | |
| --- | --- |
| | If you have information about specific videos where chucks make an appearance, please contact us at mail@chucksconnection.com. |
Get a new pair of chucks to stroll around town in by clicking on the links below.