"Beverly Hills" by Weezer
Weezer is an American punk rock band that has been together since the early 1990's, and is led by one of the best songwriters in music, Rivers Cuomo. The song "Beverly Hills" is the first single from their fifth studio album Make Believe. It reached #10 on the U.S. Billboard Hot 100, and is now used consistently in TV and film when establishing a scene in LA's most ritzy suburb.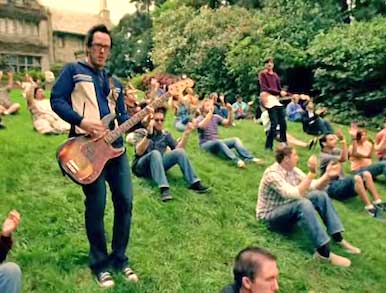 Wearing chucks on the lawn of the Playboy Mansion.
The song is about how Rivers Cuomo wants to live in Beverly Hills with all the movie stars he's seen on TV, and he hopes that his life can be like theirs. However, by the end of the track, he realizes he will never fit into the typical celebrity mold, and comes to the conclusion that he should just enjoy his life while watching the real "stars" play. Rivers has stated that this song is one of his proudest musical achievements because of how fun it is to play, and how understated the lyrics are. This is an amazing song, both lyrically and musically, and is capped off with an awesome guitar riff at the end.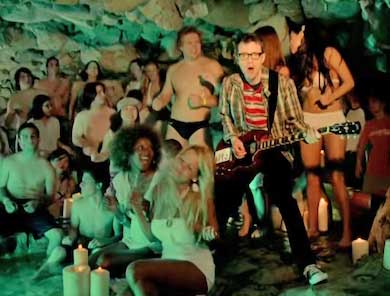 Rivers in the famed Playboy Mansion Grotto.
The music video takes place at the famed Playboy Mansion, and includes a cameo from Hugh Hefner at the beginning. He asks the band to come play their new song for the girls and they readily do so, arriving in River's "piece of cr*p" car. They then proceed to have a party with all of their fans, and enjoy life in Beverly Hills, even if it's just for one night. Rivers and most of the band are wearing chucks, as are many of their fans. Wearing chucks while at the Playboy Mansion shows that they all still want to be themselves, even while partying up where the celebrities do. The song's message about accepting who you are is perfectly conveyed in the video and the chucks are a big part of that.
Fans wearing chucks and enjoying the music.
| | |
| --- | --- |
| | If you have information about specific videos where chucks make an appearance, please contact us at mail@chucksconnection.com. |
Get a new pair of chucks for your visit to Beverly Hills by clicking on the links below.