"Californication" by The Red Hot Chili Peppers
The Red Hot Chili Peppers are an American funk rock band formed in Los Angeles in the early 1980's. They are one of the best-selling bands of all time with over 80 million records sold worldwide, and have been nominated for sixteen Grammy Awards. They are widely considered the most successful band in alt-rock history, and currently have thirteen number-one singles. Their biggest song to date is by far 1999's "Californication" off the album of the same name.
The player selection screen shows us virtual Chad in his chucks.
The song is about the dark side of fame in Hollywood, and includes references to pop culture sprinkled throughout. These references include nods to Kurt Cobain, Star Wars, Star Trek, David Bowie, the porn industry, and the Beach Boys. Lyrically, the song is almost like an updated version of the Eagles' classic "Hotel California". It shows that all the glitz and glam of not only Hollywood, but of all of California is fake and just another production put on to fool you into going there. They want you to dream of Californication. The guitar riff is iconic and instantly recognizable, and the instrumentation gives the tune a very "California" vibe, which in itself lures you into dreaming of the California lifestyle.
The band meets up in California's molten core.
The music video is set in a GTA-esque video game world that features the digital members of the band traversing through a hyper-stylized California and all of it's wonderful destinations. These scenes include running through Hollywood, swimming in San Francisco Bay, saving Grizzlies in the redwood forests, and snowboarding both in the Sierras and on the Golden Gate Bridge. Throughout all of this, members of the band are wearing digital chucks, because if you're going to make a video showcasing the state of California you've got to do it wearing the west coast's favorite shoe!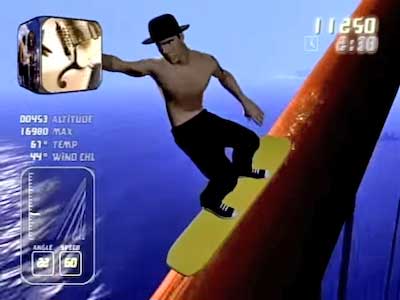 How awesome would it be to ride down the Golden Gate Bridge on a snowboard while wearing chucks?
| | |
| --- | --- |
| | If you have information about specific videos where chucks make an appearance, please contact us at mail@chucksconnection.com. |
Get a new pair of chucks to roam California in by clicking on the links below.