"7 Things" by Miley Cyrus
Take a moment to close your eyes and imagine Miley Cyrus before the twerking and the wrecking balls. It may be hard to picture, but evidence does show that Miley did, in fact, used to be the innocent, fully clothed Disney channel star that we once knew and loved. Take her song "7 Things" for example. It's not about sex or parties. It's only the anthem for broken-hearted twelve-year-olds.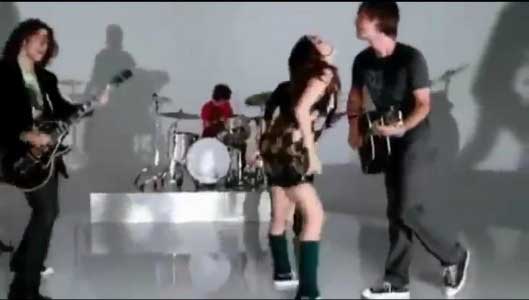 Miley singing with her chucks on.
The video itself is very "teeny bopper"-esque. It essentially features close ups of Miley singing about an ex-boyfriend while cutting to preteen girls crying over what appears to be gifts that their exes gave them (a stuffed animals, pictures, a snow globe, etc.). However, as soon as the upbeat chorus starts, the tears are gone and everyone immediately gets a "sassy" type attitude. In other words: this is a cheesy, cliché video that still manages to be entertaining if you're in the age range of 12-15.
Miley and some of the other girls wearing chucks.
Aside from the fact that Miley Cyrus is showing her talent instead of her skin, another cool thing is that just about everyone is wearing chucks. They can best be seen on all the members of the band playing behind in the background due to the quick camera cuts from girl to girl, but if you watch closely you can see that most of the "heartbroken" preteens and Miley herself are also wearing them.
The background band all wearing chucks.
So whether you're a girl who got her heart broken for the first time or you're just curious to see what the old Miley used to look like, be sure to check out this video. It may not be a masterpiece, but the message is cute, and the chucks just make it plain awesome.
| | |
| --- | --- |
| | If you have information about specific videos where chucks make an appearance, please contact us at mail@chucksconnection.com. |
Buy some pairs of chucks for your band and video.