"Into You" by Ariana Grande

Ariana Grande is undoubtedly the current queen of pop music. She has amassed a considerable number of hits in her relatively short career, and shows no signs of stopping anytime soon. The song "Into You" is the third single off her third studio album Dangerous Woman. This dance-pop tune peaked at number thirteen on the Billboard Hot 100, and was Grande's second single from Dangerous Woman to reach the top twenty, further solidifying her dominance over the pop genre.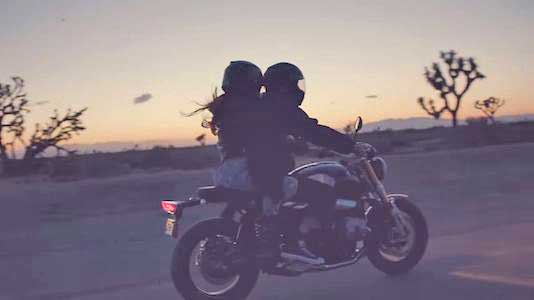 On a dark, desert highway...cool wind in my hair.
The song is like most of Ariana's work, a love song, and is written by legendary songwriter Max Martin. The song is about how Grande is eagerly waiting for the guy she's interested in to finally make a move. She goes from coy flirtiness to a more direct approach by giving him instructions on how to win her over. This builds and builds to the driving chorus where she finally just spills the beans that she's head over heels for him. The song has a really catchy beat and the build-up to the chorus maximizes its impact.
What a cool spot to hangout at.
The video starts with Ariana and her lover driving down a dark, desert highway on a motorcycle. They are clearly in love as the driving scenes are intercut with scenes of them kissing and showing affection. Eventually, they end up at a place called the Honeymoon Inn, and spend the night there. They cuddle up on the porch by the ice machine and eventually head to their room. It's then revealed that he is actually Ariana's bodyguard, and she left her actual boyfriend at a fancy party after she saw him flirting with another woman. Now they've run off together as the video ends with them holding each other while the sun rises. The bodyguard wears a pair of black high top chucks throughout the video, as he's clearly going for the 1950's rebel vibe. It's a cute video, if not entirely super memorable, but it fits the mood and message of the song.
Grande's bodyguard wears his chucks lying on the bed with her.
| | |
| --- | --- |
| | If you have information about specific videos where chucks make an appearance, please contact us at mail@chucksconnection.com. |
Get a new pair of chucks to romance in by clicking on the links below.