"Nothin On You" by B.o.B.

While he may be more famous now for his strong-holding belief that the world is flat and his subsequent feud with Neil deGrasse Tyson, there was once a time where B.o.B. was heralded as hip-hop's next big pop star. He was a member of XXL's 2009 Freshman class and immediately followed that up in 2010 with his double-platinum debut album B.o.B. Presents: The Adventures of Bobby Ray. This spawned multiple hits and launched him into superstardom due in no small part to the song "Nothin On You" which features Bruno Mars on the hook, and reached #1 on the Billboard Hot 100.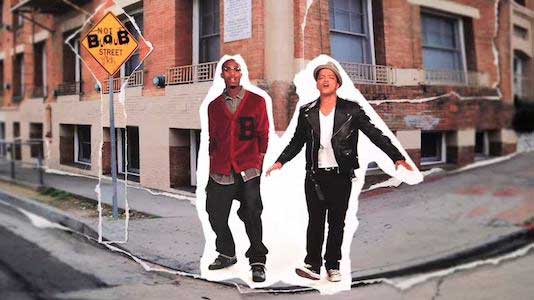 Bruno rocking a pair of black chucks.
The song is about a guy trying to court a girl by telling her how unique she is. He states that he has been all over the world, but he has never met a woman like her before, and that she can trust him to be faithful for just that reason. No matter where he goes he can only think of her, and that's how it always will be. Bruno Mars sings the hook in his remarkable voice, and it's that voice that really sells the ballad feeling the song is going for. This song wouldn't be as remarkable or memorable if Mars was not the one singing the chorus.
The style of the music video is very unique and instantly recognizable.
The music video is definitely a very unique one as it implores a visual style not seen in music videos very often, if ever. The video goes for a scrapbook/newspaper clippings look, with B.o.B., Bruno, and everyone else being cut out of their setting and interacting with the world in a stop-motion style. It's very engaging visually, and allows the girls in the video to be interchangeable, with various body parts from different women being combined until it ends up on B.o.B.'s one true love. Bruno is going for very cool yet laid back look, so he is wearing a pair of black chucks that can be seen easily in almost every scene he's in. This video is a very memorable one, and definitely helps the song convey it's message by using it's style to enforce the fact that even through every combination of woman imaginable, this particular girl is still the only one for B.o.B.
High five!
| | |
| --- | --- |
| | If you have information about specific videos where chucks make an appearance, please contact us at mail@chucksconnection.com. |
Get a new pair of chucks to romance in by clicking on the links below.