"Surf's Up America" by The Bodega Girls

For a few years now, Converse has been helping artists make new music and videos through their Rubber Tracks series. They describe it as "a global family of community-based professional recording studios" that allow emerging musicians of all genres to get free studio time while maintaining the rights to their own music. They help pair artists with filmmakers and directors to help film their music videos. It's a great program and it allowed the creation of the song "Surf's Up America" by The Bodega Girls which is accompanied by a music video directed by Loroto.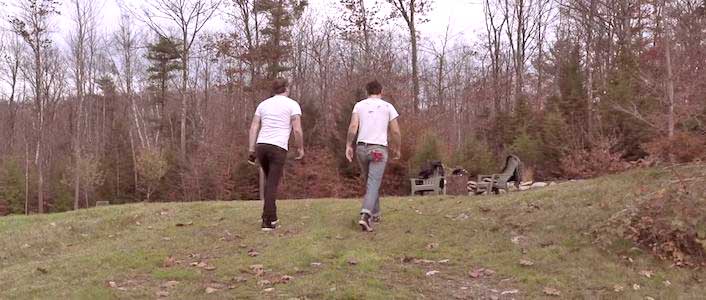 The Bodega Girls walking up a grass hill in chucks.
Based on the title you might expect the song to sound something like a classic Beach Boys tune. However, "Surf's Up America" is much more modern sounding, featuring synths and a more punk rock exterior. The harmonies on the chorus do give a slight surf music vibe, but that's where the connection ends. The lyrics of the song treat the phrase "surf's up" as a replacement for "cheers to you", as it offers the same sentiment when the singer says "Surf's up to Biggie, Surf's up to Kurt Cobain". It's more a musical toast to the artists and cities that make America what it is.
A leather pair of chucks.
The music video, directed by Loroto, features the Bodega Girls getting picked up in a custom Camaro, and then misbehaving in a local diner. We see them roll through the backroads to a cabin in the woods that's near an open field. There's a giant retro looking sign that says "Surf's Up America" on it, and everyone who has gathered there begins to shoot fireworks at each other. As the Camaro continues to move, we see that there are parties going on across America, all of them playing the song. The video features plenty of shots of chucks, with many of the musicians and party goers wearing them throughout the night. The video is nice, but it's a little bland and forgettable. The best part is definitely the awesome shots of chucks in different styles and settings.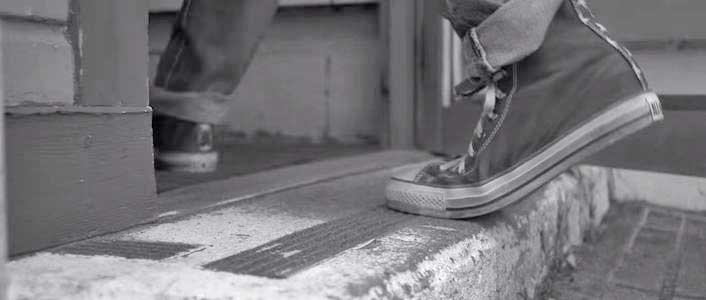 A black and white shot of high top chucks right before the diner scene.
| | |
| --- | --- |
| | If you have information about specific videos where chucks make an appearance, please contact us at mail@chucksconnection.com. |
Get a new pair of chucks for your music video by clicking on the links below.