"Stay" by Dalton Cyr
Dalton Cyr is a 16-year-old musician best known for his covers on YouTube. Following the same career path as many Internet teen pop singers before him, Dalton has carved a cult following online that is quickly growing. His song "Stay" has a music video that has been viewed almost 20,000 times on YouTube.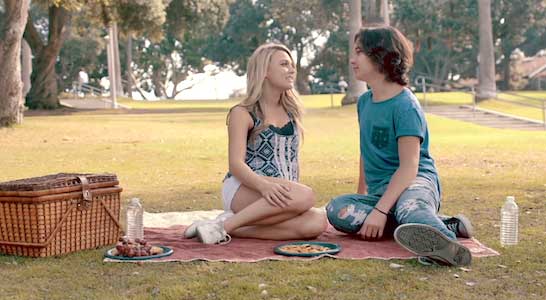 Dalton and his girlfriend on a picnic date.
The song has a more traditional rock vibe with its electric guitar and drums. The music itself is a bit generic and sounds like the kind of rock beat one might hear in a commercial because of how inoffensive it is. Dalton is not necessarily a powerhouse on vocals, but his tone fits the song and his image. The chorus is about how through all the ups and downs, and for all the trouble she's caused him, Dalton still stays with her because there is something about her that makes him. It's a pretty inoffensive song, that most kids would love at a certain age, which is the demographic Dalton seems to be going for.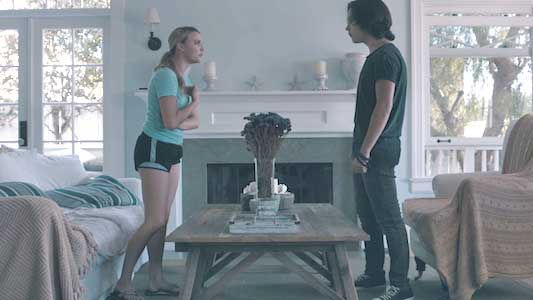 The fight that breaks the couple up.
The music video features Dalton and a girl spending a day together. They start out in a park having a romantic picnic, doing all the romantic stuff teenagers do on picnics. However, they break up and we cut to another scene in the park where Dalton sees her hanging out with another boy. This dynamic continues throughout the video. We see Dalton and the girl on the beach in Malibu and riding roller coasters together, then we see the girl and her new boyfriend kissing outside her home as Dalton drives by. Finally, we see the fight that broke them up, and how Dalton left her a goodbye note. In various scenes in the video, Dalton is wearing a pair of black high top chucks, such as during the picnic and while he plays guitar on an LA rooftop. The video is cute and fits Cyr's innocent teen pop star vibe.
A nice fire-lit view of Dalton's chucks.
| | |
| --- | --- |
| | If you have information about specific videos where chucks make an appearance, please contact us at mail@chucksconnection.com. |
Get a new pair of chucks for a romantic time by clicking on the links below.