"Bedrock" by Young Money
Lil Wayne rose from the ghettos of New Orleans to become one of the biggest rappers of the 2000's. He would go on to start his Young Money Entertainment label in 2005. The label would sign notable acts such as Nicki Minaj, Tyga and Drake. In 2009, the label released a compilation album featuring all of their artists. The album was titled We Are Young Money, and featured the hit single "Bedrock", which would go on to peak at #2 on the Billboard Hot 100.
This is just how Lil Wayne wakes up in the morning.
The song is comprised six verses from Young Money artists Lil Wayne, Gudda Gudda, Nicki Minaj, Drake, Tyga, and Jae Millz. Drake's verse is a highlight, as it's packed with clever one liners. The enduring aspect of the song though, is definitely the hook, which is a clever euphemism. Lloyd sings that any girl can "call [him] Mr. Flintstone, [he] can make your bedrock". It's an insanely catchy chorus, and a lot of that can be attributed to Lloyd's vocals.
The kick is up, and the kick is good!
The music video was directed by Dayo and Lil Wayne, and debuted on BET's 106 & Park. It features all of the artists that are on the song, and some of the Young Money artists that are not, in a MTV's The Real World-like spoof of their life inside a mansion in Florida. It's very much what one might think of when they think of an over-the-top hip-hop video, complete with plenty of girls, money, and alcohol. Lil Wayne wears a pair of black chucks throughout the video. In fact, he even wears them when he's sleeping, as we see him get up in the morning with them on his feet. That's the mark of a true chucks fan. The video is pretty standard for 2000's rap on its own, but it is important because of the roster it includes. A roster that, at the time, was just starting out, but would soon take over not only rap, but mainstream music as a whole.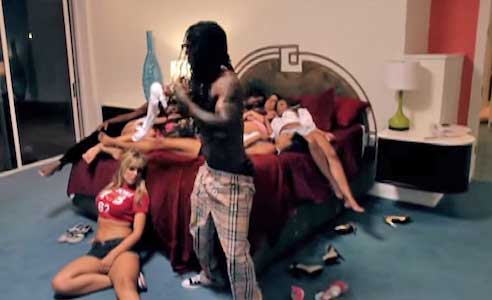 Wayne getting out of his bed wearing chucks.
| | |
| --- | --- |
| | If you have information about specific videos where chucks make an appearance, please contact us at mail@chucksconnection.com. |
Get a new pair of chucks to rap in by clicking on the links below.