A ChucksConnection Film Review
Elijah Wood wears white high top Converse "Chuck Taylor" All Stars in the film.
Brennan Gallagher wears black low top Converse "Chuck Taylor" All Stars in the film.
The War
by Hal Peterson
Stu is bullied by the the Lipnicki brothers.
The War takes us back to the Viet Nam era. The film is set in rural Mississippi in a small and very impoverished town called Juliette. There we meet the Simmons family, consisting of Stephen (Kevin Costner) a shell-shocked Viet Nam veteran who has been unable to hold a job since returning from duty, Lois, the mother who tries to hold everything together by working double shifts as a waitress, and their two children, Stu (Elijah Wood) and Lidia (Lexi Randall). The story is told in the form of a reminiscence from Lidia, who describes how their lives were changed in the summer of 1970. The long hot summer is just about to begin, and Stu's plan is to build a huge tree house fort where he can his buddies, Chet (Adam Henderson) and Marsh (Brennan Gallagher) can hang out. Lidia want to be involved also, and although Stu and his friends are against the idea, she is able to buy her way in by challenging Stu to a race and then winning. So now Lidia and her two black girl friends Elvadine (LaToya Chisholm) and Amber (Charlette Julius) are in on the tree house. The six are soon fighting over who is in charge, but when the girls are able to score all kinds of furniture and accessories (from the local junkyard on another dare) they are now in charge.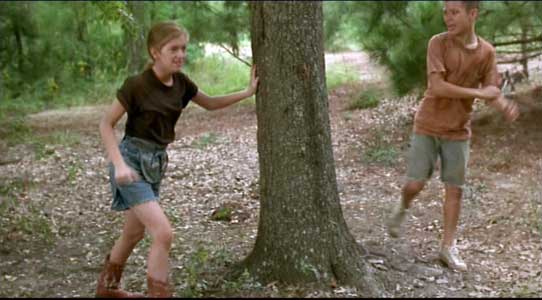 Lidia ties Stu in the race, so both the boys and girls get to build the tree house.
Besides their family struggles, Stu and Lidia have other antagonists, the Lipnickis. The Lipnickis are the local bullies, the sons (and daughter) of the disreputable and disgusting owner (Raynor Scheine) of the local junkyard. The Lipnickis fit every stereotype you could think of — mean, ugly, unclean and unkempt with bad hair and teeth. They take great delight in tormenting Stu and his friends, fighting with them and wanting to destroy anything that Stu likes. Even Mr. Lipnicki gets into the act by deliberately running his beat up pickup truck into the back of the Simmons' station wagon. Gradually the hostility between the Simmons kids and the Lipnickis escalates as they fight over turf and Stu and his friends get some revenge on the Lipnickis by exploiting their overly aggressive behavior. There are other subplots that develop. We see how the broken up relationship between Stephen and Lois gradually begins to rekindle after Stephen returns from some time in a hospital. Stephen is also looking for a way to get his family back into a regular house with land; their last house was condemned for termites while Stephen was away fighting the war, and now they live in a small rental house. The film also provides us with a view of racial relations in the South, first between Lidia and her two "best girls" Elvadine and Amber, and the way that blacks are treated in the school system. But Elvadine is not the type of person to take abuse from anyone; one of most electric scenes in the film is where she tells off a racist teacher who tries to move her to the back of the classroom because she is black. Stephen spends some time telling Stu about some of his war experiences, and because of them, he is constantly preaching tolerance to Stu. His war experiences have taught him that fighting does not really settle anything although he could easily thrash anyone who got in his way. In one scene he totally infuriates Stu who has just been beaten up by the Lipnickis by giving two of them some cotton candy. When Stu asks him why he would do that, given their behavior to him, Stephen replies that he did it because it appeared to him that nobody had done anything for the Lipnickis in a long time
Stu, Marsh and Chet devise a way to have fun with an old sidecar.
The final battle, the actual war in this film, comes to a head over the tree house. The kids first fight for it in conventional ways, and then with real weapons like smoke bomb, mortars, and even Molotov cocktails. Finally the ultimate challenge comes with the oldest Lipnicki brother and Stu deciding to compete for the ownership of the tree house in a tall and decrepit water tower with a whirlpool that regularly discharges waves of water in its vortex. Likewise, there are some serious changes that happen for the Simmons family. How all of these story lines resolve makes up the balance of the film.
Stu and his dad Stephen look over a house up for auction that Stephen wants to bid on.
While The War presents us with a coming of age story for the Simmons kids, and the struggles of the Simmons family as they try to recapture the life they had before Stephen Simmons war service, it also presents us with "messages" on a regular basis. While there is nothing wrong with these ideas, they sometimes intrude into the reality of the story, because they are really the thought processes of adults and not adolescents. The War is meant to follow in the footstep of director Tom Avnet's previous success Fried Green Tomatoes. Its overall impact would have been better served if the audience was given more of a chance to figure the messages out on their own, like we saw in Fried Green Tomatoes, or other similar movies like Forrest Gump. Sometimes in a film, actions speak louder than words, but in the world of The War we get both. The conceit in this film is that the war veteran father is preaching non-violence, while the actions of the younger generation becomes more soldier-like as they escalate into more and more violent behavior. While Kevin Costner underplays his role, and makes an effective rationale for his case through non-preaching, there are several scenes with the kids that seem overplayed and too adult-like in behavior for kids from dirt-poor families. Their messages are delivered loud and clear, but in reality only a very exceptional kid could be that articulate and for that matter choose to express those particular opinions. Nevertheless, The War is filled with good performances, and is well cast. Lexi Randall, Elijah Wood, LaToya Chisholm and Lucas Black (as Ebb Lipnicki) stand out in the children's category, and despite limited screen time Mare Winningham is very good as Lois Simmons. It has some flaws, but for the most part The War gives us solid family entertainment.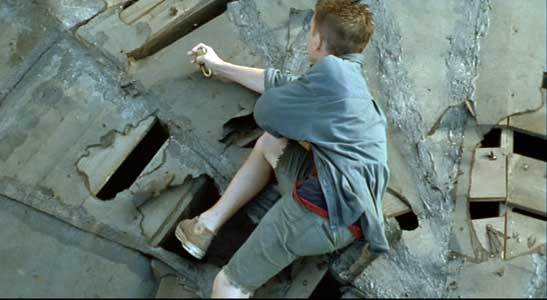 Stu struggles to get the lock back after the Lipnicki's throw it on the water tower.
Best Chucks Scene


Marsh gets shaken up by one of the Lipnickis.
Elijah Wood, in his role as Stu, wears dirty white high top chucks throughout the film, and his friend Marsh wears black low cuts. Stu's high tops look like they have been cut along the top, as you see the ankle patch right at the top of the uppers. In today's society they would be worn as roll downs. The best shots come during some fight scenes with the rival Lipnickis.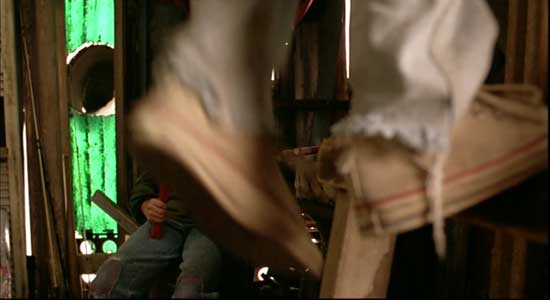 Stu climbs up and down the ladder during the battle.
The War. (1994) Kevin Costner, Elijah Wood, Mare Winningham, Lexi Randall, Christopher Fennell, Donald Sellers, LaToya Chishom, Brennan Gallagher.
Directed by Tom Avnet. Categories: Drama, Family, Coming of Age.
ChucksConnection Rating:

MPAA Rating: PG-13
Support the film industry by purchasing genuine DVD, Blue Ray, or streaming copies of these films. Illegal copies only help profiteers. Make sure your money goes to the producers and artists who actually create these films. Still images from the film are used here as teasers to get you to view an authorized copy. If you have information about a film where a main character wears chucks, contact us at films@chucksconnection.com.