A ChucksConnection Film Review
Matthew Johnson wears brown low top Converse "Chuck Taylor" All Stars in the film.
Ian Stevenson wears grey low top Converse "Chuck Taylor" All Stars in the film.
Carter Jon, Jason Hinds, Joshua Hinds, Lorenzo Norris, and Ryan Scott wear black low top Converse "Chuck Taylor" All Stars in the film.
The Watchman's Canoe
(Escape to Witch Island)
by Hal Peterson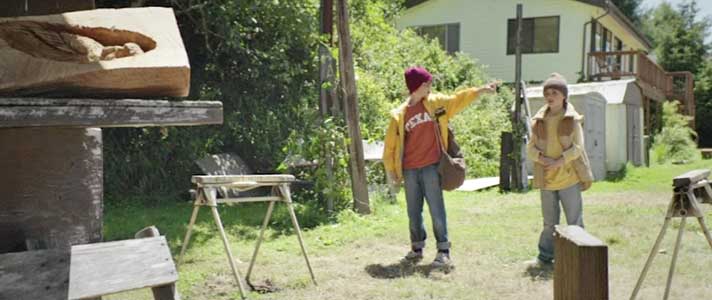 Peedie and Jett go off on a spiritual quest to Witch Island.
The Watchman's Canoe is set in the Oregon coastal forests around Coos Bay in the year 1969. We hear through her adult voiceover how important this particular year was in the development of the film's main character, Jett Chase (Kiri Goodson), a young girl of mixed Caucasian and native American descent. As the film opens, Jett, her mother Onie (Stephanie Wallace), and brother Tommy (Ian Stevenson) are just arriving at the Indian reservation for her mother's tribe and a new life separated from their late father, who was an alcoholic, and died in an accident. At the school, she does not get along with the teacher who won't let her do her work left-handed, and she is relentlessly bullied by boys in the school led by Smiley (Carter Jon) who make fun of her name and translucent white skin. Tommy and Jett used to be close, but because he wants to be a part of Smiley's boys only clique called the Fort Gang, he no longer stands up for her at school or with the other kids. Jett, as a result, ends up spending most of her time by herself, communing with nature, especially the trees and small creatures. Other than run ins with poison oak, she has a quite a connection with Mother Earth, seemingly able to make the wind blow through the trees and talk to the critters. Only one person, Uncle Ralph (Roger Willie) recognizes Jett for who she is, a future Watchman for the tribe. But when he tells this to the local medicine man they do not believe that a girl could ever be a Watchman like Uncle Ralph.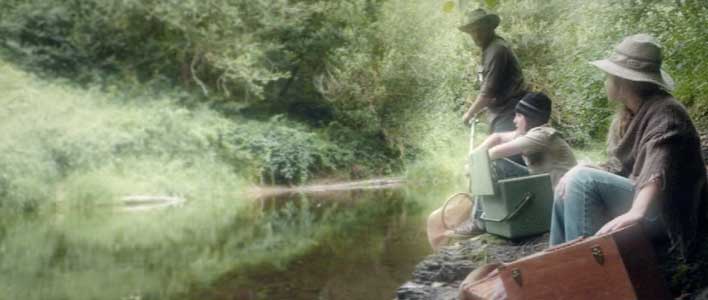 In happier days, Jett and Tommy go fishing with their father.
Finally summer arrives, school is out, and Jett's grandmother Irene (Jennifer Oswald) and cousin Peedie (Matthew Johnson) arrive to spend the summer. At last Jett has a companion to do things with. Although they make overtures to the Fort Gang boys, they are rebuffed at every attempt by Smiley. However, they are able to spend time with Uncle Ralph, who tells them stories from the past, the traditions of the tribe, and about the Great Elder who lives on Witch Island. Like everyone else, Ralph tells them that Witch Island is off limits because it is very dangerous to travel there by canoe. Jett comes to realize that for her destiny to be fulfilled she must make a pilgrimage to seek out the Great Elder.
Peedie and Jett walking along railroad tracks.
Things come to a head after Onie must go and spend a few days at the college where she works, leaving the kids by themselves with Grandma Irene. Jett and Peedie begin to check out Witches Island, and on a dare from the Fort Gang decide to take Uncle Roger's cedar canoe and go there. It is a very dangerous journey, especially for two young kids with very little experience in the ocean and with inland currents. They do arrive at the island, but lose the canoe because they didn't secure it upon landing. Back on the mainland, when Grandma Irene and Uncle Ralph realize that Jett and Peedie have gone missing, a search goes out for them. A couple of Ralph's friends go out on their small trawler and find the canoe and two life jackets floating in the water, so they believe the kids were swept out of the canoe and drowned. They never bothered to check Witch Island, mainly due to their lack of belief in the traditions of the tribe any more. But Ralph never wavers in his belief that the kids made it to the island and set up a vigil with night fires and chanting. The experiences that Jett and Peedie have on the island, their new understanding of the spiritualism of their heritage, and their attempt to make it back home make up the balance of the story.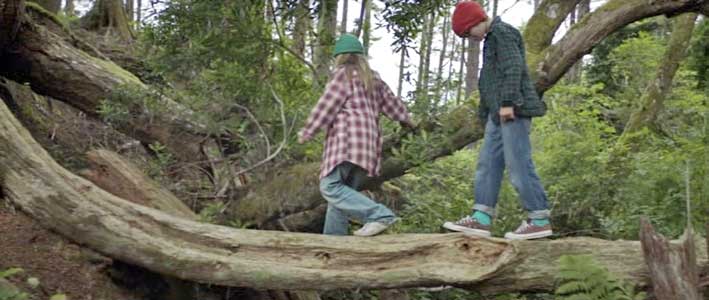 Jett and Peedie walk across a log natural bridge.
The Watchman's Canoe is a locally financed production that has not received a lot of publicity or exposure but is a film that does present good family values. The majority of the cast and crew of the film come from the Coos Bay area, with special kudos to young Kiri Goodson and Matthew Johnson for their acting work in this film, and to adult actor Adam Beach whose work finishes the storyline nicely. The cinematography in widescreen gives you very nice images of this beautiful area. It is basically a different climate from most of northern California and western Oregon, colder and more rain forest in nature. Even in the summer you see everyone wearing layered clothing, blue jeans rather than shorts, and stocking caps. The storyline is simple, but that enhances the film's family-friendly nature. Although the storyline is set in the 1960s, several of the themes resonate today, the negative impact of bullying, the positive impact of self-reliance, and the importance of nature in people's lives if they make the effort to experience it. Filmmaker Barri Chase has created a gem here; a nice contrast to the typical summer fare we see in mainstream theaters and a reminder that true quality of life comes from within and in synergy with the environment.
Peedie discovers a feather on the island.
Best Chucks Scene
The fort gang walk Peedie to their fort.
All the main character boys in The Watchman's Canoe wear low cut chucks in the film. Peedie has a brown pair that he always wears with bright green socks and rolled up blue jeans. Jett's brother Tommy wears a grey low cut pair, while Smiley and the other Fort Gang boys wear black low cuts. There are several close up shots of Peedie exploring in the forest, but the best shot is after he is captured by the Fort Gang and being walked back to their tree house.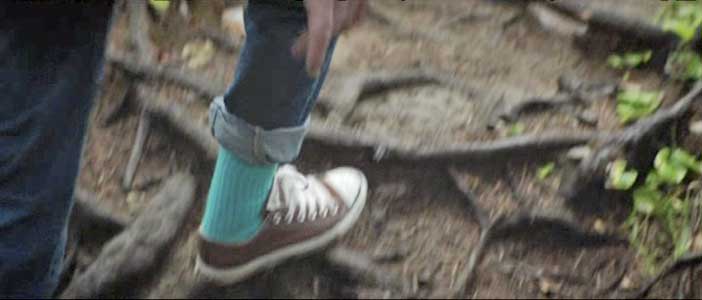 Peedie following a trail through the forest.
The Watchman's Canoe. (2017) Kiri Goodson, Matthew Johnson, Roger Willie, Stephanie Wallace, Jennifer Oswald, Adam Beach, Ian Stevenson, Carter Jon, Jason Hinds, Joshua Hinds, Lorenzo Norris, Ryan Scott. Written and directed by Barri Chase.
Category: Drama.
ChucksConnection Rating:

MPAA Rating: NR, would be PG.
Support the film industry by purchasing genuine DVD, Blue Ray, or streaming copies of these films. Illegal copies only help profiteers. Make sure your money goes to the producers and artists who actually create these films. Still images from the film are used here as teasers to get you to view an authorized copy. If you have information about a film where a main character wears chucks, contact us at films@chucksconnection.com.