A ChucksConnection Film Review
Robbie Kay wears black and green Converse "Chuck Taylor" All Stars in the film.
Ways To Live Forever

by Taylor Bathel
Sam and Felix want to know all about life while fighting cancer.
Stealing the limelight in Ways to Live Forever is Sam: a charming, upbeat twelve-year-old boy—who has terminal leukemia. With death inevitable, he's inspired by his at-home teacher (Greta Scacchi) to create a video journal so his memory can live eternally. Through this he chronicles his life on two levels: the bucket list he tackles with his fellow cancer-laden friend Felix (Alex Etel), and his curiosity surrounding the "questions that nobody answers" about death.
Sam and Felix's tutor helps them deal with the serious challenges of life.
Despite the dismal context, the film embraces the positive vibe echoed through Sam's childlike vivacity. A vibe mostly played out through Sam's "wishes"—from smoking a cigarette, to riding in a spaceship. While Sam originally saw the list as an unreachable game, Felix ushers a plan of action. The concept in itself calls for pause. Things typically seen as simply living become a dream to a child with cancer. Through the completion of these wishes, we peak beyond the disease to the child that lives within each boy—just wanting to goof around, and have a first kiss. Though the wishes may be miniscule, each is a feat for viewers cheering Sam and Felix on.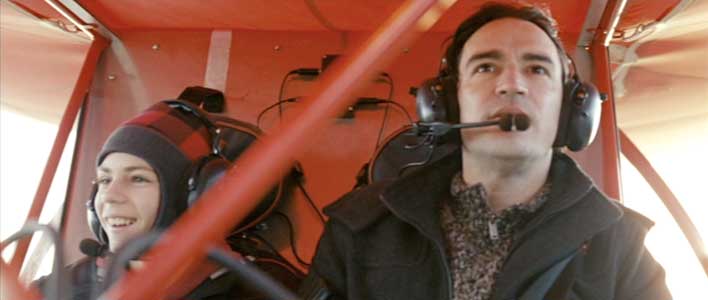 Sam and his father take a fantastic ride in a dirigible.
The film by no means stifles the severity of leukemia. It instead turns the tables on the perception of cancer, to that of a child. Though as balance, a range of reactions to the disease and emotions are captured through each character. While Sam is lighthearted, Felix is more pragmatic and sarcastic about his condition, showing that no two children will adapt the same. Sam's parents mimic the same dual ends—with the mother (Emilia Fox) being positive, and the father (Ben Chaplin) too devastated to discuss, never mind accept, his son's cancer.
Sam's mom helps him to skateboard.
It's the father's character that I must applaud director Gustavo Ron for creating. While the majority of the focus is on Sam's spunk and "confessional" type film takes, depth is added in the quick scenes that flash the father's disillusionment. Chaplin does a great job at creating the exact, raw emotion that the audience craves in the parent. It crafts a story about a family, rather than a story about a boy, and the impact is great in these moments' juxtaposition to the frequent whimsical scenes. It makes the audience hold on hope that one day the entire family can accept Sam's disease with the same grace and humor as Sam himself.
Sam's parents are delighted with the journal that he wrote.
Best Chucks Scene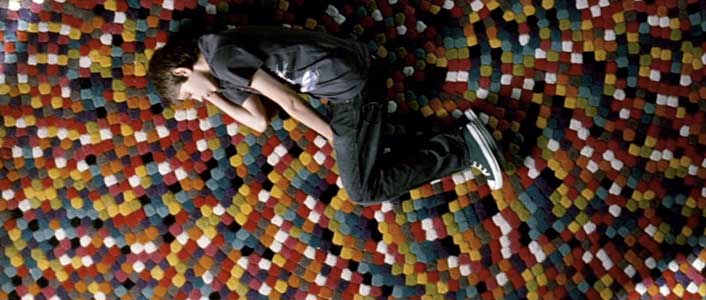 Sam lies on the floor contemplating his future.
Robbie Kay in his role as Sam wears black or green chucks in many of the scenes in the film. There are very few closeups, but when you see them they are a reminder of Sam's desperate wish to be like normal kids his age.
The results of a scientific experiment.
Ways To Live Forever. (2010) Robbie Kay, Ben Chaplin, Emilia Fox, Greta Scacchi, Alex Etel, Ella Purnell, Natalia Tena.
Categories: Family, Drama.
ChucksConnection Rating:

MPAA Rating: PG-13
Support the film industry by purchasing genuine DVD or VHS copies of these films. Illegal copies only help profiteers. Make sure your money goes to the producers and artists who actually create these films. Images from the film are used here as teasers to get you to view an authorized copy. If you have information about a film where a main character wears chucks, contact us at films@chucksconnection.com.