Here Come the Chucks!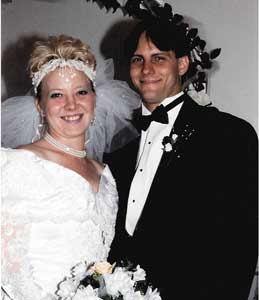 In 1999 The ChucksConnection received some correspondence from Cheryl and Doug, a young couple in Michigan telling us about their love for each other, Chuck Taylors, and how this influenced their wedding plans. Here is their story:
Doug and I met when I went to work in the same factory he worked in. I got the job in June of 1997. At the time, I was going through a really rotten marriage and knew I was headed for a divorce. Doug played hockey with my department leader, Mick, and they were pretty good friends. I started spending lunch with Mick, and with Mick, came Doug. Being one of very few women in this factory, they picked on me constantly, all in good fun. The two of them very quickly became my closest friends. Beyond friendship, I never had a clue that Doug was interested in me until I had made the announcement that following January that I was getting a divorce. I left my ex in February and Doug immediately asked me out. So, on February 27, 1998 we went to a nice restaurant and then to see Titanic. During our first date, we both had talked about how we just wanted a friend to hang out with, nothing serious, no commitment. For me, personally, I thought it would take about five years before I could ever think about anything seriously. But, needless to say, by the end of the night, Doug and I both knew we would be spending our lives together. I fell in love with him instantly. We had been friends for so long and we just knew each other so well.
When we started dating we lived 40 miles apart. He would call me every night to say good night and we would talk for hours on the phone. We had the most incredible conversations about our lives and what was important to us, or just about nothing at all that would matter to anyone. Within a month, he asked me to move in with him. We couldn't stand the distance and living together was the best arrangement for us both. I was driving up here to work anyway, so it just seemed that this is where I belonged. I have never in my life known anyone like him and never will again.
Doug always wears Converse All Star Chuck Taylor basketball shoes. It was on our first date that I noticed the Converse. He wore black dress pants, a Red Wings sweater (one of the original six) and black Converse All Star high tops. He has been wearing Converse for the past 10 years. He will wear nothing else because he says they are the most comfortable shoes. "I guess I decided to start wearing chucks around 17 because I saw somebody wearing them and thought they looked really cool. When I finally purchased a pair I could not believe that something so basic could be so comfortable. The flexibility that these shoes offer is probably comparable to aqua socks, and let's face it with the inflated prices of shoes, no matter how far I have to go to find these, the price is right."
Besides working in the factory, Doug is studying to obtain a federal labor card in machinist toolmaking. His passion is hockey. He is a goaltender for a local league here in our hometown of Westland, Michigan. Doug also likes rollerblading and bike riding. As for me, I'm just learning all of this stuff! I am now, slowly sharing his passion for hockey. I enjoy rollerblading and bike riding with him and my daughter Kaytlin. At this present time, I work for the municipal TV station here in Westland.
Cheryl and her bridesmaids wore white chuck high tops.
Since we have gotten together, we have been in many weddings and Doug is always complaining about the dress shoes being uncomfortable. Doug was in a wedding last August, and after the wedding was over, he changed to his Converse. Everyone at the reception made comments about them. I never realized how much people notice your shoes. Again this May he was in a wedding and did the same thing. Even when we attend weddings, he dresses up and wears his Converse. Everyone always comments. And yes he did wear them when he proposed to me. He had just come in from his mom's house and got down on one knee in the middle of our living room and proposed in front of my 10 year old daughter. So, when we set our date, and started making plans, I said to him that he could wear them through the whole wedding and reception if that is what he wanted. When we told our best man, Tyler, he said he would wear them, too, so he went out and bought his first pair. When Doug and I were talking about it one morning, he made the comment, "Wouldn't it be great if we could get everyone in the wedding party to wear them?" So, I just said, "Why don't we all wear them?"
That is when I set out to find Converse for myself and my bridesmaids. After about 20 different stores, I finally found them at Sports Authority in Dearborn, Michigan. The girls' chucks will have special lace shoelaces. I love how they look!! That was probably the hardest thing to find out of everything for the wedding. But it has been worth it to see the look on Doug's face. This is so Doug, and it makes him happy and that is all I want. I bought my first pair when I started looking for these shoes for the wedding. I now have white Converse All Star high tops. I have never had a more comfortable pair of shoes on my feet.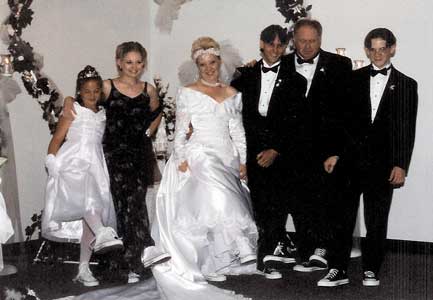 The Abbott wedding party. Here come the chucks!
"So, I just want to say on June 11, 1999, I will marry my very best friend and we will be very comfortable in our Converse! My whole wedding party will be in formal attire and Converse All Stars! I just thought you might be interested in knowing that these shoes are being used for a wedding party. At least, if nothing else to get a laugh out of it!"
To order chucks for your wedding, click on the thumbnails below: