A ChucksConnection Film Review
The Jets wears various Converse "Chuck Taylor" All Stars in the film.
West Side Story (2021)
by Marcus Angulo
Most of the Jets wear varying types of chucks.
Something's coming. Something good! Don't know what it is but it's gonna be great! How do you remake a classic? A true classic that set a record for Academy Awards by a film with ten. If you're Steven Spielberg you do it with a profound love and admiration for the original, while acknowledging it's flaws and rectifying them. West Side Story (2021) is a reimagining of the 1957 stage musical and 1961 film by the same name. The film stars Rachel Zegler, Ariana DeBose, Mike Faist, David Alvarez, Rita Moreno, Brian d'Arcy James, Corey Stoll, Josh Andrés Rivera, and Ansel Elgort. This version has received 7 Oscar nominations.
"You're tall."
In 1957, the Jets are a gang of displaced, white youths that fight the Puerto Rican Sharks for the territory of San Juan Hill on Manhattan's Upper West Side. Officer Krupke (D'Arcy James) and Lieutenant Schrank (Stoll) break up the brief fight between the two groups, telling them that their conflict is pointless since the neighborhood will be demolished to make way for Lincoln Center. However, both gangs are too proud to care, and Jet leader Riff (Faist) proposes a "rumble" between the two gangs. He approaches his friend Tony (Elgort), who is fresh out pf prison on parole, for help. Tony refuses because he wants to turn over a new leaf with the help of Valentina (Moreno), the Puerto Rican owner of Doc's general store. Meanwhile, Maria (Zegler), Shark leader Bernardo's (Alvarez) sister, has recently arrived in New York and yearns for independence. At a local dance, Tony and Maria meet and fall in love. This infuriates Bernardo, who agrees to Riff's terms for a rumble as long as Tony attends. Tony, meanwhile, sings in the streets his love for Maria until he happens to come upon her fire escape, where they talk and promise to see each other the next day.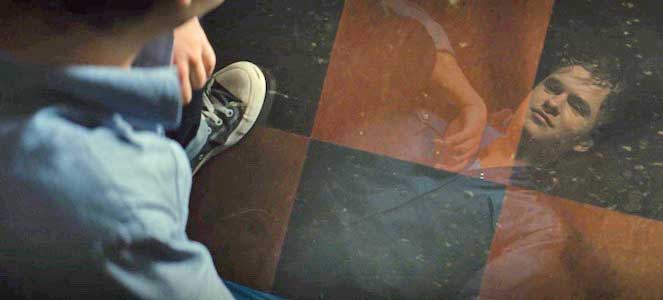 Something's coming.
Bernardo and his girlfriend Anita (DeBose) feud over life in New York compared to Puerto Rico, with Anita believing in the American Dream in spite of the pessimistic Bernardo who longs for life on the island. Everyone gets ready for the rumble, the Sharks, the Jets, the police, all while Tony and Maria go on a date uptown. Tony then tries to convince Riff to call off the rumble by stealing his newly-bought gun, but the Jets steal it back and all but abandon Tony. The rumble happens and Bernardo fatally stabs Riff. Tony, in a fit of rage, then stabs Bernardo and kills him. The gangs flee when the police arrive, while Chino (Rivera) finds Riff's gun. Maria gushes about her love for Tony at work, but Chino arrives and tells her that Tony killed Bernardo. Maria is heartbroken, but she meets Tony later and refuses to let him turn himself in because she doesn't want to lose him too. They plot to run away together, while Chino seeks revenge against Tony. After identifying Bernardo's body at the morgue, Anita returns home to see Maria with Tony as he leaves the apartment. Maria and Anita argue, with Anita eventually accepting that Maria and Tony are in love. Maria sends Anita to warn Tony about Chino, but when she arrives at Doc's, the Jets are waiting. They shout racial slurs and attempt to gang rape her, but Valentina intervenes. Traumatized, Anita spitefully claims Chino killed Maria and vows to return to Puerto Rico, giving up all hope on her American dream. Valentina condemns the Jets, who disband in shame. Valentina tells Tony what Anita said, and he runs into the streets begging for Chino to kill him too. Maria arrives to his relief, but Chino emerges and shoots Tony, who dies in her arms. Maria berates the gathered Jets and Sharks for the senseless deaths their conflict caused, before tearfully dropping the gun. As the police arrive and arrest Chino, the gangs come together to take Tony's body and carry it into Doc's with Maria following.
When you're a Jet you're a Jet for life.
This film is a masterpiece. Spielberg is operating at a level only he can and the cinematography and shot composition of this film is incredible. This is one of the most beautiful films of the year. The principle cast is amazing, with Zegler, DeBose, Faist, and Alvarez absolutely owning the film. The fact that the Sharks are actually comprised of Latinos makes such a difference from the original. The cast imbues this film with so much soul and passion, and brings so much life to the characters and music. The music is also top notch with all the memorable songs from the musical there and performed to perfection. The choreography is also stand out and combines effortless movements that tell a story with the incredible music. This film is a must watch for really anyone and everyone, and now that it's streaming you should definitely check it out!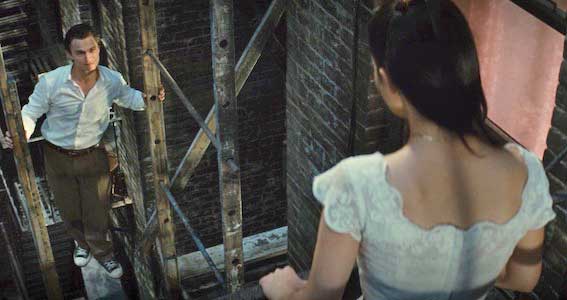 Tony and Maria, the modern day Romeo and Juliet.
Best Chucks Scene


"Boy, boy, crazy boy."
The best chucks in the film comes during the film's "Cool" number. At this point in time Riff, the leader of the Jets has challenged Bernardo and the Sharks to a rumble. To ensure he and the Jets come out on top, Riff goes against the agreed-upon rules and procures a gun. He also wants Tony to join the Jets again and join them but Tony continues to refuse. He meets Riff and the others at the docks to try and stop them. He sings the opening lines to Riff and then they wrestle and play keep away for the gun for the rest of the number, which Riff ends up winning. This scene is critical to the story as this is Riff's final chance to walk away from the rumble and is what ends up dragging Tony into it. Most of the Jets in this scene wear chucks, and both Tony and Riff wear the pairs they wear through most of the film. Tony's are a classic white and black pair while Riff has all black, a subtle hint at their differing paths in life.
West Side Story. (2021) Ansel Elgort, Rachel Zegler, Ariana DeBose, David Alvarez, Rita Moreno, Brian d'Arcy James, Corey Stoll, Mike Faist, Josh Andrés Rivera, Iris Menas. Directed by Steven Spielberg.
Categories: Musical, Drama.
ChucksConnection Rating:
MPAA Rating: PG-13
Support the film industry by purchasing genuine DVD, Blue Ray, or streaming copies of these films. Illegal copies only help profiteers. Make sure your money goes to the producers and artists who actually create these films. Still images from the film are used here as teasers to get you to view an authorized copy. If you have information about a film where a main character wears chucks, contact us at films@chucksconnection.com.