A ChucksConnection Film Review
Taylor Alexa Frank and Anna Ming Bostwick-Singer wear black low top Converse "Chuck Taylor" All Stars in the film.
Jack Menzies wears black high top Converse "Chuck Taylor" All Stars in the film.
What Love Looks Like
by Marcus Angulo
Theodore tries to figure out the best way to approach Bailey.
Love is hard. It's the hardest thing that we as humans do. We go through great lengths to seek it and achieve it, putting ourselves in situations we don't want to be in so that we can possibly end up in the only situation we ever want to be in again. One would think that modern technology would aid this process, with the ability to communicate with anyone anywhere, making it easier to find that special someone. However, as any millennial will gladly tell you, that is not the case. The generation that bridged the gap between pagers and cell phones, saw dial up become high speed internet, and watched social media companies take over society has found relationships, intimacy, and love incredibly difficult to navigate. There's often a sense of incredible loneliness and being lost in a never ending ocean, and this has made connecting with others hard. This brings us to the new rom-com What Love Looks Like. Released on January 19th, 2020, the film is written and directed by Alex Magaña, and stars the ensemble cast of Kate Durocher, Taylor Alexa Frank, Gabriella Wisdom, Connor Wilkins, Josh Gilmer, Nathan Kohnen, Trevor Sean, Jack Menzies, Kyle Meck, Jamie Shelnitz, Ana Ming Bostwick-Singer, and Ashley Rose McKenna.
Luckily Bailey's dog solves the problem.
The film follows the relationships and lives of five couples that are all going through something different. Some are dealing with loss while some are dealing with new beginnings. Some seem to be at the end of their relationship while others are trying to find ways to keep theirs fresh. All of these stories are interwoven with each other, and throughout the movie the transition from story to story is very seamless. This is all due to some very deft handiwork by writer/director Magaña, as covering this much storytelling ground is no easy task. The charming and quirky cast also help in this feat. While they may not be big names or be the most refined cast, they bring a lot of heart to the story and come off as genuine people for the most part.
Finn spots Penelope studying in the park.
However, one major flaw the film has is that it doesn't quite accurately reflect what the modern image of relationships is in 2020. All the couples are heterosexual, with no gay, lesbian, or transgender couples/individuals featured in the main cast. There are also only two people of color in the main cast, with no African-Americans represented. It may seem like a nitpick to some, but to those who don't see their faces in this film it's a big issue that makes this film feel far less authentic. This film isn't alone in this issue, as it's continuously prevalent throughout movies both big and small, but it would be a nice step forward if films that were about modern love stories featured more real love stories.
Theodore and Bailey like to meet in the park while walking their dogs.
Overall though, this film is a quick and fun rom-com, and is a perfect weekend watch with that special someone in your life. It's quite funny and heartfelt, and incredibly well made for a small indie movie. It deals with the communication issues and personal problems that an entire generation of people deal with everyday in a world that has quite figured out the answers to them. The stories of these people also serve as a reminder that yes, love is hard. It's full of twists and turns, insurmountable pain, and unrivaled happiness. This movie shows the pain and the happiness that come with being in a relationship, and most importantly it reinforces the idea that love is in fact the best thing we do.
After a night of sightseeing, Finn and Penelope establish a relationship.
Best Chucks Scene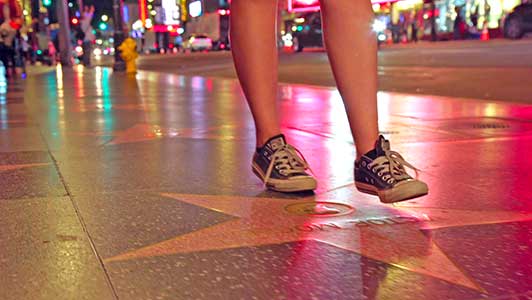 Penelope strolling along the Hollywood Walk of Fame.
Theodore and Bailey, played by Jack Menzies and Anna Ming Bostwick-Singer, one of the five featured couples, both wear black chucks in the film. Theodore wears black high tops with a black and white ankle patch, while Bailey wears black low tops. Taylor Alexa Frank who plays the English foreign exchange student Penelope also likes to wear black low top chucks, and they are featured in the cinemaphotography as she wears them with knee length dresses. The best chucks scene is when Finn takes her on a tour of the sights of Los Angeles and the camera gives us a long close up shot of her chucks while strolling along the Hollywood Walk of Fame
All Stars among the stars.
What Love Looks Like. (2020) Jack Menzies, Taylor Alexa Frank, Anna Ming Bostwick-Singer, Kyle Meck, Josh Gilmer, Tay McVay, Margo Graff, Tevy Poe, Trevor Sean, Kate Durocher, Connor Wilkins.
Written and directed by Alex Magaña.
Categories: Comedy, Romance.
ChucksConnection Rating:

MPAA Rating: NR, would be PG-13
Support the film industry by purchasing genuine DVD, Blue Ray, or streaming copies of these films. Illegal copies only help profiteers. Make sure your money goes to the producers and artists who actually create these films. Still images from the film are used here as teasers to get you to view an authorized copy. If you have information about a film where a main character wears chucks, contact us at films@chucksconnection.com.