A ChucksConnection TV Series Feature
Tony Danza wears black high top Converse "Chuck Taylor" All Stars in the series.
Who's the Boss?
Mona gets ready to take Samantha and Jonathan out for pizza while Angela and Tony look on.
In Who's the Boss, Tony Danza plays the role of Tony Maceli, a live-in housekeeper for advertising executive Angela Bower (Judith Light). Both Tony and Angela have young children — Tony's daughter is named Samantha (Alyssa Milano) and Angela's son is Jonathan (Danny Pintauro) who lives in the household. The family is completed by Angela's mother Mona Robinson (Katherine Helmond), although she doesn't live in the household. Tony was formerly with the St. Louis Cardinals but when he became a widower, he decided to retire from the hectic routine of city life and work as a domestic in Connecticut in an arrangement where he could spend maximum time with his daughter. Angela was a divorcee who needed help with the rambunctious Jonathan and someone to bring order to her household.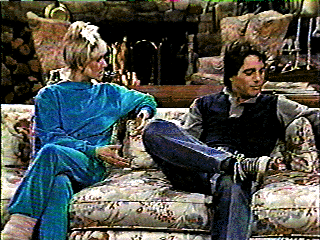 Angela and Tony have an argument over Tony's role in the household.
One of the running themes of the show was the evolving relationship between Tony and Angela. At first it was portrayed through their attitudes as employer and employee, but eventually they became serious about each other. However, their courtship was not serious at all until many seasons after the show started. Whenever the two of them seemed to be getting closer to each other, they would back off and date other people. As the kids grew up and entered high school various other characters were added to keep the show interesting. Even Mona was courted by the debonaire Max Muldoon (Leslie Nielsen).
Angela's very attractive friend tries to persuade Tony to come work for her.
Tony is "Mister Nice Guy" who always tries to smooth things out. In this series, Tony wore his black high top chucks throughout the entire run of the show. There are some great shots of him in his chucks in many episodes. Sometimes Samantha was seen wearing chucks also. With Tony's background in the show as an ex-baseball player, his "jock" background really portrays his wearing of high black Converse Chuck Taylors as being "real cool".
Do you know of other television shows or series where a main character wears Converse All Star Chuck Taylors? Can you describe a favorite episode or two from the series, or do you have additional information about the shows described here already? Do you have videotapes, DVDs or shot captures of episodes from any of the series that haven't been given an in depth article on this site? If you do, email us at chucksphotos@chucksconnection.com and we will add the information to the television pages.