A ChucksConnection Film Review
Jonathan Taylor Thomas wears black high top Converse "Chuck Taylor" All Stars in the film.
Devon Sawa wears optical white high top Converse "Chuck Taylor" All Stars in the film.
Wild America
by Hal Peterson
The Stouffer brothers go on a trip to film America's vanishing wildlife.
Marshall (Jonathan Taylor Thomas), Mark (Devon Sawa) and Marty Stouffer (Scott Bairstow) were three brothers growing up in Fort Smith, Arkansas during the late 60s. As the youngest, Marshall was usually the target of his older brothers pranks and stunts which they often filmed with their 8mm home camera and showed to their friends. Marshall also had dreams of flying the airplane that his father, Marty Sr. (Jamey Sheridan), was carefully restoring in a barn in the back of their property, but never got around to trying out. Marty Sr. was more interested in having his sons follow him into his carburetor parts and repair business.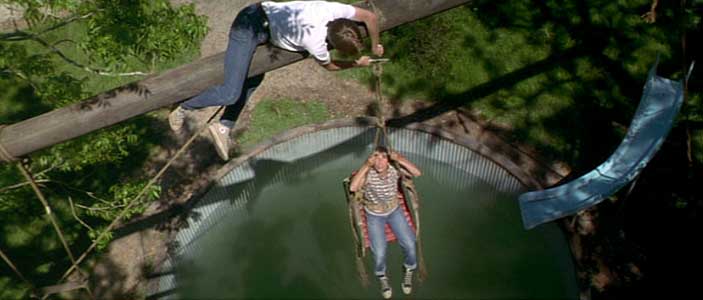 Marshall is the victim of another one of Mark and Marty's pranks.
Mark and Marty have dreams of becoming filmmakers, and inspired by an article in an outdoor magazine, begin to photograph animals in their natural environments. When their mom, Agnes (Frances Fisher), buys them a used 16mm camera, they plan a trip to film the vanishing wildlife of America before it's too late. Marty and Mark set out on their trip, but soon discover an unexpected stowaway, Marshall, who didn't want to stay at home and miss the adventure. Although reluctant to take him along, Marshall's bravery and resourcefulness soon becomes useful to Marty and Mark as they search out alligators, grizzly bears, moose, coyotes, and other wildlife.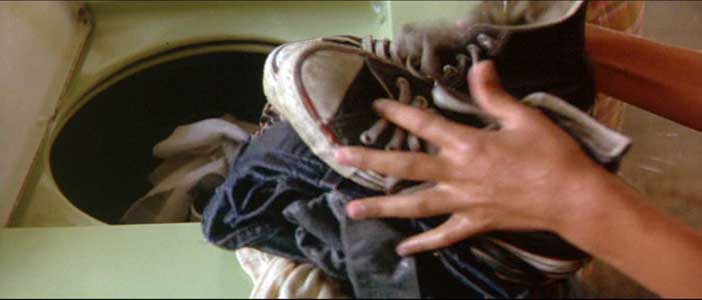 Get me out of these wet clothes and into a dry Mug root beer.
Wild America is really a "coming of age" film, and if you can handle another "all knowing" twelve-year-old helping his parents and older brothers to understand each other and make the right decisions about life, you will find this to be an enjoyable story. The film is well shot by cinematographer David Burr, although most of the animal scenes border on the unbelievable. And of course, you know that Marshall ends up flying that airplane.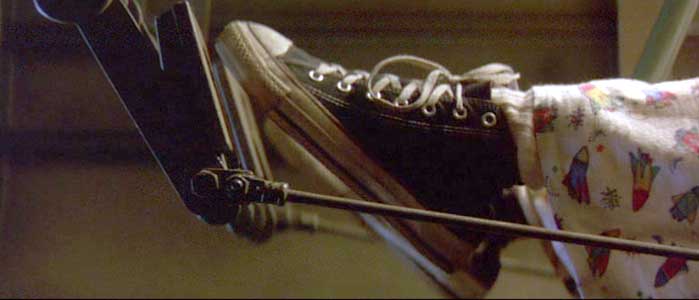 All Star acceleration.
Best Chucks Scene
A rattlesnake strikes out at Marshall.
Jonathan Taylor Thomas (black) and Devon Sawa (white) wear chucks high tops throughout most of the film, and there are a few good close ups of Marshall flying the plane, kicking away an alligator, dumping off his thoroughly soaked clothes after one of the older brothers' pranks, and Mark walking and doing a stunt with firecrackers.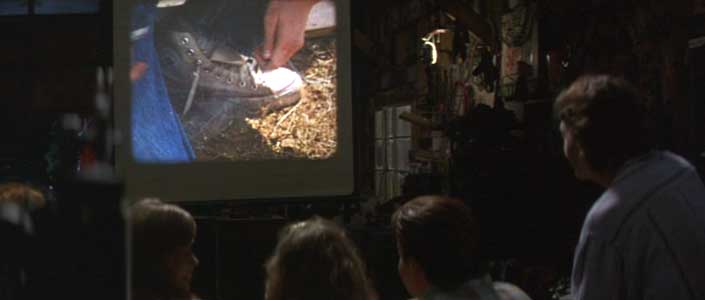 The audience likes Mark's All Star firecrackers stunt.
Still, the best scene has to be Marshall riding on the horns of an angry moose, after he got too close to the moose's young baby.
Marshall on the horns of a dilemma.
Wild America. (1997) Jonathan Taylor Thomas, Devon Sawa, Scott Bairstow, Jamey Sheridan, Frances Fisher. Directed by William Dear.
Categories: Family, Coming of Age, Drama.
ChucksConnection Rating:

MPAA Rating: G
Support the film industry by purchasing genuine DVD, Blue Ray, or streaming copies of these films. Illegal copies only help profiteers. Make sure your money goes to the producers and artists who actually create these films. Still images from the film are used here as teasers to get you to view an authorized copy. If you have information about a film where a main character wears chucks, contact us at films@chucksconnection.com.