A ChucksConnection Film Review
Joseph Mazzello, Seth Mumy and others wear black high top Converse "Chuck Taylor" All Stars in the film.
Three Wishes
by Hal Peterson
Joseph Mazzello learns how to hit a ball.
Imagine an idyllic world in suburbia where everyone lives in a nice single-family house and new houses can be bought for $13,500, where the dad is the wage earner yet has plenty of time to spend with the family, and the mom stays home to take care of the kids. Imagine a place where all the boys in town wear black Chuck Taylor All Star high tops, are neatly groomed and dressed, can run around town in relative safety, and play in nice parks and athletic fields. This is the setting for Three Wishes, the story of a mom named Jeanne (Mary Elizabeth Mastrantonio) whose husband was a MIA pilot in the Korean War (and presumed dead) trying to raise her two sons Tommy (Joseph Mazzello) and Gunny (Seth Mumy) during the mid 1950's. Tommy is sort of a loner; although he has friends on his Little League team, they really don't accept him as one of the inner circle. Gunny has a lot of fears and is coming down with a mysterious illness. Jeanne is at crossroads in her life: she would like to start her own business but doesn't really know how to go about doing that, given the mores and attitudes of the time, and is also considering re-marrying so that her kids will again have a father at home. Into this scenario comes a drifter named Jack (played by Patrick Swayze) and his dog, who Jeanne literally runs into with her car and breaks his ankle. Although warned against it, she impulsively invites him to stay at their house until his ankle is healed.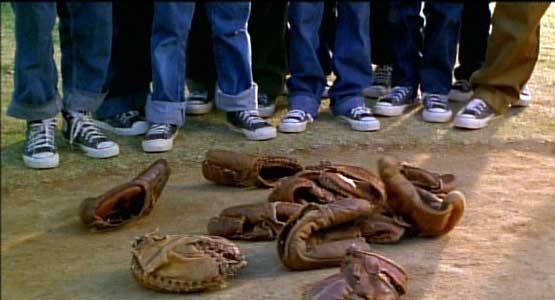 All the boys in town wear black high top chucks.
Jack soon makes an impact in the town because he has very different attitudes about life. The townspeople are suspicious of him because he wears a beard, does strange things like make sun tea and nude sunbathing, and approaches life with a Zen-like mentality. However, their attitudes change when he is able to turn around the season of Tommy's Little League team by teaching the kids his unconventional but very successful approach to the game. But Jack never fits into the conventional world of the town and rebuffs their attempts to make him fit into their scene because he never wants permanent relationships. What he brings is a one-time magic to the conventional mores of the town, and change to the lives of the three family members he stays with (hence the title). If you like fanciful family entertainment, then you will enjoy this film.
Best Chucks Scene
Tommy's team learns to become All Stars.
There are lots of good chucks shots throughout this film, but the best scene has to be where Patrick Swayze is teaching Tommy's Little League team how to meditate before a game. The camera pans back and forth between Tommy's team, seated in a circle in left field singing "om" and their opponents who are going through the traditional "We will beat you" rah-rah kind of ritual.
Three Wishes. (1995) Mary Elizabeth Mastrantonio, Patrick Swayze, Joseph Mazzello, Seth Mumy.
Directed by Martha Coolidge. Categories: Drama, Family.
ChucksConnection Rating:

MPAA Rating: PG
Support the film industry by purchasing genuine DVD, Blue Ray, or streaming copies of these films. Illegal copies only help profiteers. Make sure your money goes to the producers and artists who actually create these films. Still images from the film are used here as teasers to get you to view an authorized copy. If you have information about a film where a main character wears chucks, contact us at films@chucksconnection.com.