A ChucksConnection Film Review
Jahzir Bruno wears black high and low top Converse "Chuck Taylor" All Stars in the film.
The Witches
by Hal Peterson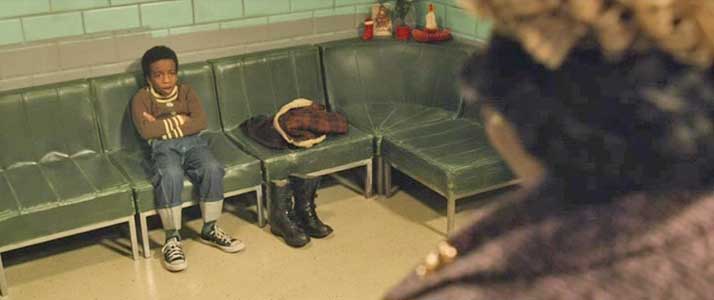 A young boy goes to live with his grandmother after his parents were killed in an accident.
The Witches is a modern remake of Roald Dahl's popular 1983 story that takes full advantage of the latest CGI and filming techniques. This is especially apparent in the multiple looks of the witches. When they are in their human form, they are dressed to the teeth in high fashion, with extra touches like scary snakes. When the witches are alone in their coven, we discover that they are bald, with ugly two toed feet, bird claw hands, and extra-wide mouths with sharp triangular teeth. In this version written and directed by Robert Zemeckis with assistance from Guillermo del Toro and Kenya Barris, the film is set in rural and oceanside Alabama instead of England. Its change of locale better suits many of the cast members. Everything is first rate in this production: an excellent cast led by Anne Hathaway, Octavia Spencer, Stanley Tucci, and young Jahzir Bruno in his first film role, narration by Chris Rock, additional production assistance from Alfonso Cuarón, a musical score by Alan Sylvestri, and marvelous cinemaphotography by Don Burgess. With a large budget, crew, and the full backing of Warner Brothers, this was meant to be an early holiday blockbuster, a family grade horror and action adventure for Halloween. But due to Covid virus restrictions, the film was not released in theatres but instead as a main feature on the new HBO Max streaming site.
Grandmother and grandson staying at a resort hotel.
The film is narrated by Chris Rock as the adult Jahzir Bruno character. Even before the main story begins, he hammers home the point that "Witches are REAL!" They live among us everywhere, small towns, cities, even next door. Worse, the thing that they hate the most in the world is children. Squishing a kid is as pleasurable for a witch as eating a fully loaded ice cream sundae is for a human. And how does he know this? Because he has had his own personal run-ins with witches. Now the story begins as a series of flashbacks which take us back to the year 1968 in Chicago. Our seven-year-old Hero Boy (Rock-Bruno) is the only child of two middle class parents, but as the story begins, they are killed in an automobile accident. Luckily he survives, but now he is an orphan, sent to Alabama to live with his Grandma (Octavia Spencer) in the small town of Demopolis. At first he is withdrawn in a shell of disbelief and despair, unwilling to eat or have any kind of fun. His grandma tries to draw him out, and slowly he begins to emerge as a normal young boy, especially after she gives him a pet mouse that he dotes on, names Daisy, trains to do tricks, and keeps in his front shirt pocket when they travel.
The hero boy enters the huge room where the witches will be meeting.
Our Hero Boy has his first encounter with a witch when he is out shopping at the town general store with his grandmother. He is by himself in a hardware aisle when he meets a well-dressed lady who offers him a piece of candy in her gloved hand. As she does that, a winding blue snake works its way down her arm, freaking him out. He runs back to his grandmother and begs her to quickly leave the store. Back at home, he tells his grandmother what he saw, and she tells him that he must have seen a witch. Grandma then explains how they dress in high fashion to conceal their actual witch features, and tells him how one of their potions concealed in a piece of candy turned her childhood best friend into a chicken. "That is why you should never accept any candy from a stranger, it could be a witch." She also tells him that witches like nothing better than to prey on young children.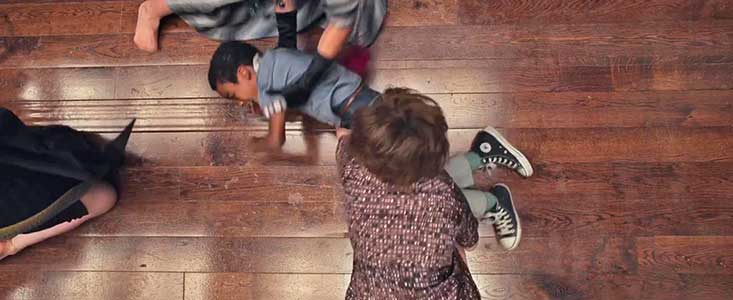 After he is discovered, the witches drag Hero Boy from his hiding place.
Fearful of what the witch may due to her grandchild and to cure a bad cough, Grandma decides to leave town for a while. She calls in a favor from her cousin who was the renown chef for thirty years at the Grand Orleans Imperial Island Hotel, a seaside resort in southern Alabama, and is able to get her a reservation. This is quite a stretch due to the segregation policies in the South at the timeline of the story that would have certainly not allowed the intermingling of races, especially at a fancy hotel (remember Green Book). This gives the story an uncomfortable undertone that is barely addressed. At the same time, a coven of witches, led by their Grand High Witch (campily played by Anne Hathaway) also arrives to attend the ironically named conference for the International Society for the Prevention of Cruelty to Children. The conference is actually a planning session to get rid all the children playing at the beaches nearby, using a purple potion that changes kids into mice. There is an incredible sequence of scenes where this is revealed and unfortunately Hero Boy and Reginald (Brian Bovell), another kid staying at the hotel, become the first victims of the witches' cruel plot. Now all that stands in the witches way of carrying their plot out are Hero Boy, Daisy, and Reginald as mice, along with the assistance of Grandma. From this point the film becomes more like a cartoon in the way the action is handled and the storyline is developed. The Witches is family fare, but for its main target audience, younger kids in the elementary school grades, the special effects and actions of the witches can quite disturbing. Its PG rating clearly leans more toward PG-13 at times, and that is something to be considered by parents before deciding to watch it with their younger kids.
The witches grab Hero Boy to give him the evil potion.
Best Chucks Scene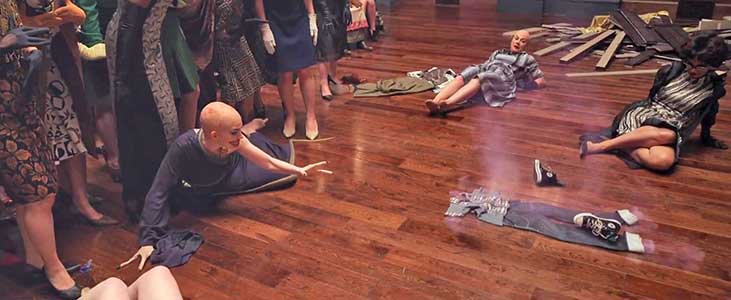 After Hero Boy is turned into a mouse, his clothing and chucks fall to the floor.

Jahzir Bruno wears both black high and low top chucks during the scenes in the film before he is transformed into a mouse. This is most likely a continuity error because it would be unusual for a seven-year-old kid to have two different models of the same sneakers, and especially two pairs of chucks clearly made fifty years after the the film's setting year of 1968. (You see the word CONVERSE above the words ALL STAR on the heel patches of his low top pair, and a shoelace notch on his high top pair, both modifications made in the past decade.) The camera work is very chucks friendly at times, with good close ups of him wearing both his high tops and his low tops. The best scene with them is during the conference room scene, where he is captured, force fed the purple potion that turns him into a mouse, and thrown up into the air after the potion takes effect. This is actually a pretty scary scene for little kids.
The camera shows a close up of the boy's clothing and chucks.
The Witches. (2020) Chris Rock, Jahzir Bruno, Octavia Spencer, Anne Hathaway, Brian Bovell, Joseph Zinyemba, Josette Simon, Jonathan Livingstone. Written and directed by Robert Zemeckis. Categories: Action/Adventure, Family Grade Horror.
ChucksConnection Rating:

MPAA Rating: PG
Support the film industry by purchasing genuine DVD, Blue Ray, or streaming copies of these films. Illegal copies only help profiteers. Make sure your money goes to the producers and artists who actually create these films. Still images from the film are used here as teasers to get you to view an authorized copy. If you have information about a film where a main character wears chucks, contact us at
films@chucksconnection.com.