A ChucksConnection Film Review
Jaden Michael wears unbleached white high top Converse "Chuck Taylor" All Stars in the film.
Wonderstruck
by Hal Peterson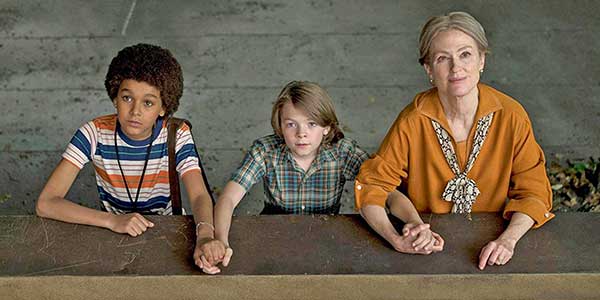 Jamie, Ben, and grandmother Rose.
Todd Haynes' adaptation of author and screenwriter Brian Selzer's novel Wonderstruck is a markedly different take on the common theme of a misunderstood kid in an unhappy family situation who runs away to seek a better life. In this story, we are introduced to two different protagonists from two different eras who end up having parallel stories. Ben's story is set in 1977 and filmed in full color. Rose's story takes place in 1927 and is filmed in black and white. Ben (Oakes Fegley) has just lost his mother in a car accident and is now living with an aunt and cousins who aren't particularly sympathetic to him. Ben has never known his father and wishes to find him. Rose (Millicent Simmonds) is a lonely deaf girl who is kept sequestered in her father's home. She want to be with her mother, who is the famous actress Lillian Mayhew. Their stories are told in alternating scenes during the film, which moves at a languid pace and takes the time to focus on unusual topics like the work of museum curators and the struggles of people who are partially or totally deaf.
Rose arrives in New York City.
Ben was from the small town of Gunflint Lake, Minnesota. We discover that he was born deaf in one of his ears. After the death of his mother, the town librarian, he now lives with his aunt and uncle instead of the house he grew up in. One restless and stormy night, Ben feels the need to return to his house. There he finds his cousin Hannah looking through his mother's things. Ben also has a desire to do that. After Hannah leaves, he finds his mother's money stash and a book called Wonderstruck, which is about exhibits at the American Museum of Natural History in New York City. Inside the book, there is a receipt from a bookstore in New York with a note to his mother signed by someone called Danny, who Ben figures must be his father. Impulsively Ben dials the telephone number on the receipt, but just as he is calling, a bolt of lightning from the storm hits the telephone pole and sends an electric shockwave through the phone line, knocking Ben out and causing him to go completely deaf. When Ben wakes up, he is in a hospital and freaked out by his new condition. But determined to find his father, Ben runs away from the hospital and heads on the bus to New York City to find that bookstore so he can begin tracking down his father. Once in New York, Ben quickly loses his cash to a pickpocket, but luckily meets another young boy, Jamie (Jaden Michael), who takes a liking to Ben, gives him some food and a place to stay in an abandoned back room of the Museum of Natural History where Jamie's father works. In the back room the two explore documents they discovered about the wolf exhibit that Danny had worked on in Gunflint Lake and where Danny met Ben's mother, the town librarian. Jamie also tells Ben where the bookstore was relocated.
Jamie shows Ben his secret room at the museum.
Rose was from Hoboken, New Jersey where she is living with her strict and overbearing father who seems to berate her for her deafness. Rose has very little contact with the outside world. Her main desire is to see her idol and real mother, actress Lillian Mayhew, who lives and performs in New York City. Rose takes the ferry to New York City and sneaks into the theater where Lillian is rehearsing for a play. When she is discovered hiding in the wings, Lillian takes Rose to her dressing room and locks her inside, intending to return her to her father. Clearly Lillian has no interest in being a mother to Rose. Rose is able to escape through a small window in the dressing room and then heads over to the American Museum of Natural History. There she hides from security until she is rescued by her older brother, Walter, who works there as a curator. Walter takes Rose in, and later in the film we learn the connection between Rose's story and Ben's story.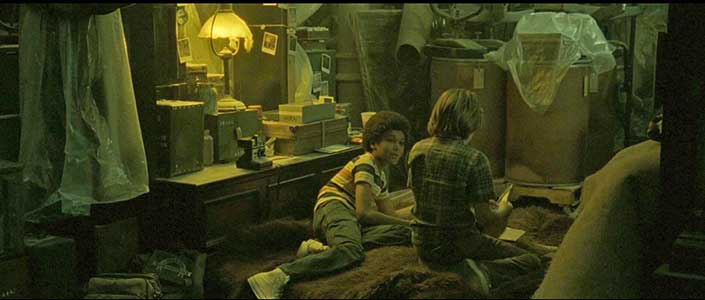 Jamie finds out about Ben's quest to find his father.
Wonderstruck has a beautiful visual look to it and is in no hurry to come to the conclusion of the stories it portrays. Along the way there is plenty of time devoted to watching a silent film complete with organ background music, strolling through exhibits in New York museums, or taking a look at documents written by curators relating to those exhibits. The film can afford these stops along the way, because the story lines are so filled with convenient coincidences that there are no dead ends in the search for the answers which are eventually explained by Grandmother Rose (Julianne Moore) in its denouement. Wonderstruck is also a look into a world that seems sadly lost today, where kids have the time to read and explore ideas or to pursue their dreams and desires in an environment that moves at a more natural pace. The three child actors who are the main focus of the film do a great job carrying the day with honest screen presence, as the adult roles are mostly incidental in nature. This is not your typical children's film; in many ways it probably has more meaning for adults than the tweens represented by its principal characters.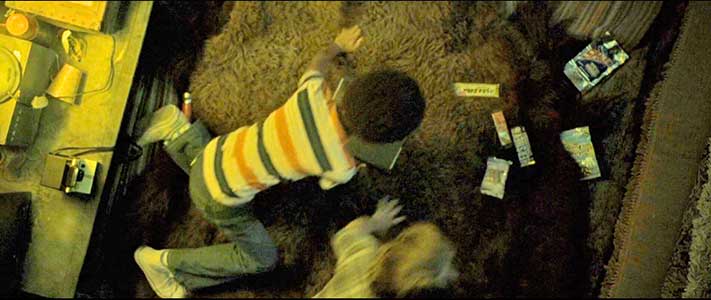 Jamie and Ben pore over some documents.
Best Chucks Scene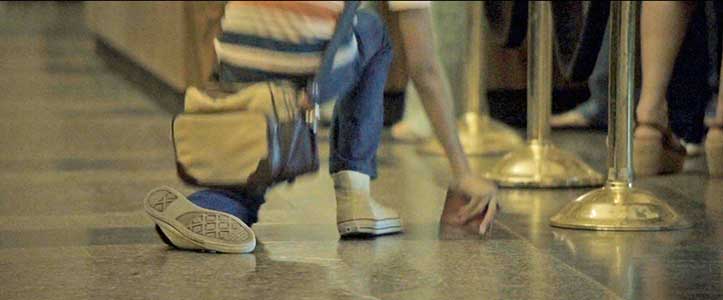 Jamie stoops down to pickup Ben's wallet.
Jaden Michael in his role as Jamie wears natural (unbleached) white high top chucks in the film. There aren't many close ups; the best shot is when Jamie stoops down to pick up Ben's wallet, which he has accidentally dropped on the floor of the museum. There is another close up at the end of the film, after Jamie has tracked Ben to the Queens Museum containing the complete miniature model of New York City.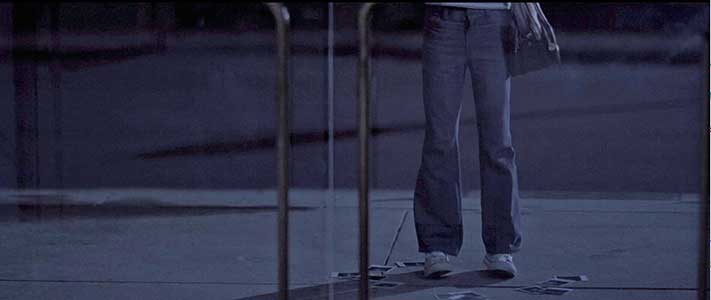 Jamie arrives at the Queens Museum during the New York City blackout of 1977.
Wonderstruck. (2017) Oakes Fegley, Julianne Moore, Jaden Michael, Cory Michael Smith, Tom Noonan, Michelle Williams, Millicent Simmonds. Directed by Todd Haynes.
Categories: Drama, Family.
ChucksConnection Rating:

MPAA Rating: PG
Support the film industry by purchasing genuine DVD, Blue Ray, or streaming copies of these films. Illegal copies only help profiteers. Make sure your money goes to the producers and artists who actually create these films. Still images from the film are used here as teasers to get you to view an authorized copy. If you have information about a film where a main character wears chucks, contact us at films@chucksconnection.com.