A ChucksConnection TV Series Feature
The main characters wear Converse "Chuck Taylor" All Stars.
The Wonder Years
Kevin Arnold relives his suburban childhood in the late sixties.
The Wonder Years is about how adolescents, as seen through the eyes of Kevin Arnold (Fred Savage), dealt with the issues of growing up in the 1960s. The show is great at recreating the images of junior high years through its use of period music, clothes, and hair styles. Kevin's experiences are narrated by him as an adult (the voice of Daniel Stern), and describe his various relationships with other kids, his family, and adults.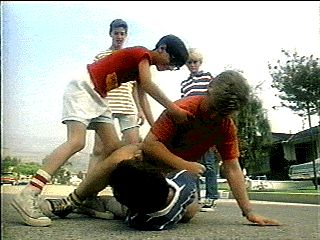 Josh tries to break up a fight between Kevin and his older brother Wayne.
Besides his family, the most important characters in Kevin's life were his best friend Paul (Josh Saviano) and girl friend Winnie (Danica McKellar). Together they explored the important themes of adolescent friendship and the development of his first infatuation with a girl.
Kevin and Winnie walk to the park and begin a more serious relationship.
Kevin's family includes his older brother Wayne (Jason Hervey), who takes delight in tormenting Kevin and humiliating him, especially in front of other kids, but from time to time they would actually show some understanding for each other. His older sister Karen (Olivia D'Abo) was just starting to get into the hip scene of the late sixties, and would often shock the family with her sudden pronouncements of independence or social protest. His mom Norma (Alley Mills) seemed like the typical 60's stay at home mom, and much was made in the series about his relationship with his dad (Jack Arnold), who would usually come home tired and preoccupied from work, a little grumpy and prone to get into an argument with someone in the family. Occasionally something would happen to make them connect as people and these experiences were always significant in Kevin's development as a person.
Kevin and his classmates look through the new sex education book they got in PE class.
The Wonder Years is a true powerhouse of Converse Chuck Taylors in both high top black and high top white. All the male characters usually have on chucks. Kevin is seen wearing mostly white high tops, but occasionally black high tops, and his older brother Wayne wears black low cuts and sometimes high tops. Even the physical education teacher wears black high tops and once in a while you see Kevin Arnold's dad wearing white low cut chucks.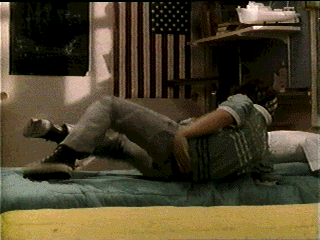 Kevin rolls over the bed during a tussle with Wayne.
The cameraman provides great angles of the chucks, often panning the camera toward the character's feet and showing them in various stages of wear and tear. For instance, in one episode, Kevin was seated on the couch with his white high top chucks propped up in the coffee table in the family room. From the camera's angle, viewers had a perfect shot of the soles of Kevin's chucks, displaying minimum wear the on bottoms. Favorite scenes are the physical education classes, where the boys are actively playing basketball in their chucks, or they are sitting in near perfect class position on the gym floor, listening to the physical education teacher explain the fundamentals of basketball, while wearing his black chucks.
Winnie retrieves a football for Kevin in the series pilot.
You see chucks being worn by other kids in the neighborhood and at Kennedy Junior High, hanging out, in PE class, and during ball games. You even see Winnie wearing a maroon low cut pair in the series pilot.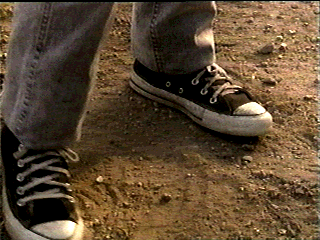 The camera work often focuses on characters wearing chucks.
Another great episode has Kevin and his best friend Paul cruising the mall for girls. The two boys stop and window shop for a second. They spot a possible date trying on shoes. However, the camera focuses on the pair of white high tops in the shoe store's window. In the pilot, you see Kevin wearing black high tops, and you see some closeups of them drawing circles in the dirt as Kevin and Winnie contemplate making their friendship more serious, but really don't know how to proceed.
Do you know of other television shows or series where a main character wears Converse All Star Chuck Taylors? Can you describe a favorite episode or two from the series, or do you have additional information about the shows described here already? Do you have videotapes, DVDs or shot captures of episodes from any of the series that haven't been given an in depth article on this site? If you do, email us at chucksphotos@chucksconnection.com and we will add the information to the television pages.