A ChucksConnection Film Review
Charlie Plummer wears black high top Converse "Chuck Taylor" All Stars in the film.
Words On Bathroom Walls
by Hal Peterson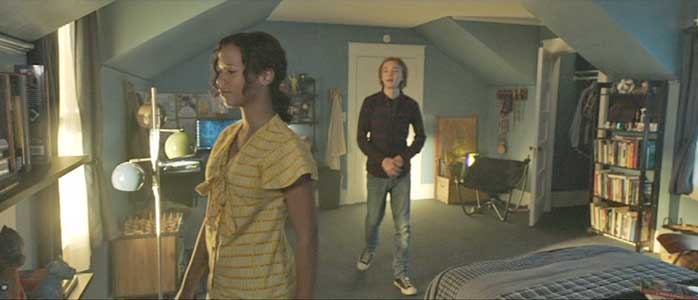 Maya looks around Adam's room after she agrees to tutor him.
Words On Bathroom Walls looks at mental illness as it affects teenager Adam (Charlie Plummer), and combines it with a coming of age story as he deals with his mom Beth (Molly Parker) and stepfather Paul (Walton Goggins) at home, and gradually develops a budding romance with Maya (Taylor Russell), his tutor at St. Agatha's Catholic High School. Throughout the film, Adam serves as the film's narrator in addition to being its main protagonist. One of the main points of the screenplay is how mental illness is stigmatized in our society, something to be shunned, and not seen as a disability, like autism or hyperactive behavior. Adam's illness is schizophrenia, and its effect on him is cleverly portrayed in the story line by three distinct personalities shown as actual characters in the film instead of just voices in his head that constantly talk to him or give him advice. There is Rebecca (AnnaSophia Robb) represented as a free-living child of the sixties, Joaquin (Devon Bostick) who only wears a bathrobe and shorts while representing his male hormone side and Lobo Sebastian as his bodyguard, a mean looking dude with a shaved head wearing a tracksuit, and carrying a baseball bat, always ready to take anyone else on or any action (like a drug regimen) that would take him and the other voices away from Adam. These characters only appear to Adam but you can see how they cause confusion to him, especially in stressful situations around other people. Adam's visions and hallucinations also include fast moving ink blobs that can take over an entire auditorium and delusional or confused behaviors.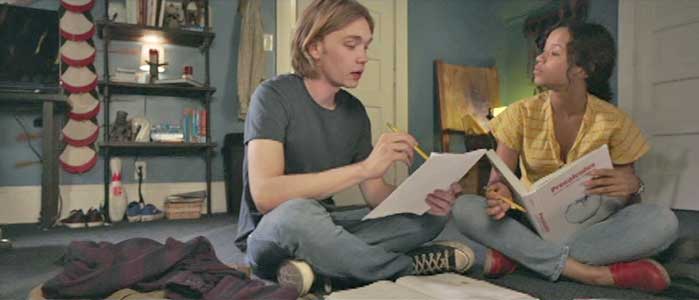 Adam and Maya having a tutoring session on the floor of Adam's room.
In many ways Adam's story is a sad one, because he is bright, thoughtful, and has a goal in life which is to become a professional chef in a quality restaurant after attending a culinary academy. He already has demonstrated his talent as a chef to his mom, his way of making her life a little easier. For many years, it was just the two of them, after they were abandoned by Adam's father. But a new man, Paul, has recently come into Beth's life, and Adam has issues with him, mostly made up on his part. As the film opens, Adam is in his senior year at high school, seemingly doing well as he hangs with his best friend Todd (Aaron Dominguez). One day in chemistry class the two of them are working on a lab assignment together when suddenly Adam has a full blown manifestation of the disease. He believes he is being attacked and ends up spilling a beaker of acid on Todd's wrist during the pandemonium he creates as he fends off the imaginary attackers. The class watches in horror at his actions while Todd screams in agony. Eventually Adam is brought until control by a security guard, but the result of the incident is that Todd needs a skin graft, is no longer Adam's friend, and Adam is expelled from school. In one sense, Adam is very lucky, because Beth is constantly looking after him and has the money to get him treatment and attend a private school to finish out his senior year. While at the hospital where Adam is being diagnosed after the chemistry lab incident, there is a poster announcing a new experimental treatment for schizophrenia and looking for patients to try it out. Adam is signed up, but there are side effects. Anyone who has seen one of those drug ads on television knows that often the list of side effects is as bad as the disease. But Beth tells Adam that this is his last chance. He has to be on treatment as a condition of attending his new school, St. Agatha's, as well as maintain good grades. Without a high school diploma, Adam will not be able to attend culinary school.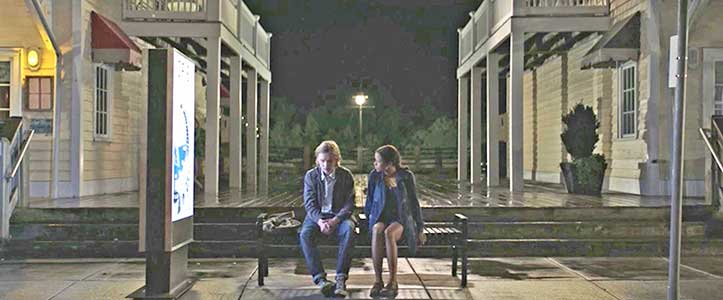 Adam and Maya seated on a bench outdoors.
On his first day at St. Agatha's, Adam accidentally meets school valedictorian Maya in a boy's bathroom which is supposed to be closed to all students, and is the place where Maya meets with other student clients who need her assistance doing their schoolwork. This off the record business is against school rules but Adam tells her that her secret is safe. Maya is very high powered and forward with her actions toward others unlike the more kickback Adam, but the two are intrigued with each other. Soon Adam is requesting her services as a tutor, which she charges a lot for; luckily Beth is willing to pay to help Adam succeed in the rigorous school curriculum. Adam hides the fact that he is schizophrenic from Maya, telling her that he was expelled from his other school due to fighting. Like Adam, Maya is highly secretive about her personal life. As Adam begins to fall for her he discovers that she is not from a wealthy family, like she pretends to be, but instead lives in a poor section of town. She needs the money she earns from tutoring and a part time restaurant job to help keep her single dad and little brothers afloat, because her father is still recovering from a work injury and can't pay his bills or accept jobs. Gradually Maya begins to fall for Adam when she realizes that his interest in her is sincere and well-intentioned. Adam also gets unexpected help from Father Patrick (Andy Garcia), a priest at the school willing to listen to Adam (they meet in the confessional booth) even though he is not Catholic and doesn't believe in God. As they develop a friendship, Father Patrick gives Adam some good advice about how to deal with his life. Unfortunately this serendipity comes to an end when Adam stops taking his medication and his concerned parents report that to the school authorities. Suspended from school, all the stability in Adam's life falls apart when he decides to crash the school prom anyway. At the prom, another scary incident reveals his secret to everyone, eventually causing him to be hospitalized. The balance of the film is about how Adam is able to start over again, picking up the pieces of his shattered life, but also what he has learned about life and his relations with others that will allow him to succeed in the future.
Adam delights in cooking at the restaurant where Maya works.
Words on Bathroom Walls is a very fine collaboration of script writing, acting, direction, and special effects. While there are many ways to complete the last semester of high school besides attending an exclusive Catholic academy, and some of the scenes stretch what would be acceptable in normal life, once you get beyond those flaws, the characters are sympathetic and the story is engaging. Led by Charlie Plummer and Taylor Russell, the acting is superb, not only from the teenage leads, but also from adult actors Molly Parker, Walton Goggins, and Andy Garcia. The way that special effects are used to convey some of the reality of schizophrenia to non-understanding audiences is especially well done, and driven home to the viewer by one simple line of dialogue by Adam, when he states that some days living with schizophrenia is constantly dealing with the demands of his three other personalities, delusions, and visions no one else can see from dawn to dusk. Director Thor Freudenthal has done a great job of putting all these elements together with a subject matter that is generally so misunderstood. That is the power of a good film: the ability to convey a storyline about a difficult subject with captivating visuals, good acting, and clever editing.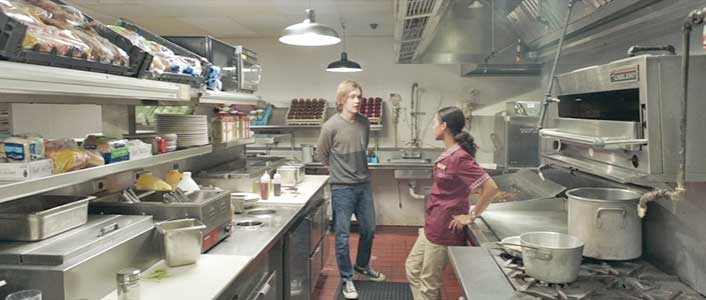 Maya and Adam talk about the future in the kitchen.
Best Chucks Scene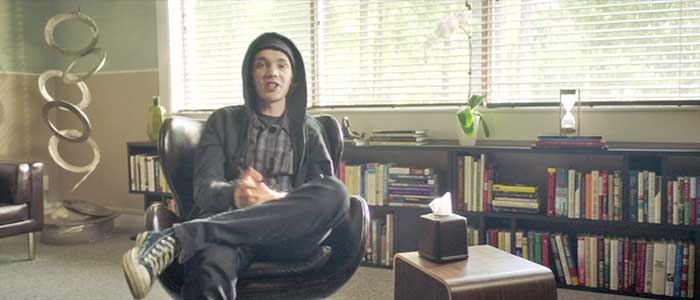 Adam is talking directly to the audience about his mental illness.

Charlie Plummer in his role as Adam wears black high top chucks in nearly all of the scenes of the film. He is most comfortable when dressed like you see in the picture above, wearing his chucks with jeans and a hoodie like so many teens do these days. There are few closeups in the cinematography, one where Adam is narrating directly to the audience, and another during the chemistry class fiasco where we see a brief shot just after he spilled acid on Todd's forearm.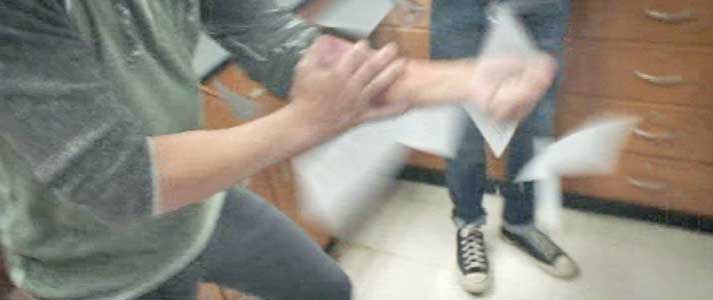 The camera gives us a quick close up of Adam's chucks after he spills acid on his best friend.
Words On Bathroom Walls. (2020) Charlie Plummer, Andy Garcia, Taylor Russell, AnnaSophia Robb, Beth Grant, Devon Bostick, Lobo Sebastian, Molly Parker, Walton Goggins.
Directed by Thor Freudenthal.
Categories: Drama, Romance.
ChucksConnection Rating:

MPAA Rating: PG-13
Support the film industry by purchasing genuine DVD, Blue Ray, or streaming copies of these films. Illegal copies only help profiteers. Make sure your money goes to the producers and artists who actually create these films. Still images from the film are used here as teasers to get you to view an authorized copy. If you have information about a film where a main character wears chucks, contact us at
films@chucksconnection.com.