A ChucksConnection Film Review
Marc Riffon wears black high top Converse "Chuck Taylor" All Stars in the film.
White Wolves: A Cry in the Wild II
by Hal Peterson
Benny and Scott launch their raft.
White Wolves: A Cry in the Wild II is part of a series of four films produced by the Roger Corman company on one basic theme: a group of teenaged kids from different socioeconomic backgrounds, with various attitude problems and the usual teenager acceptance problems, go on a wilderness trek with a guide who tries to shape them up and get them to work as a team. When some sort of tragedy strikes, the teenagers realize that they must work together to get out of trouble, and so they start to bond and face the realities of survival in the wilderness. When things get to their worst point, a white wolf appears and seems to help guide them out of trouble.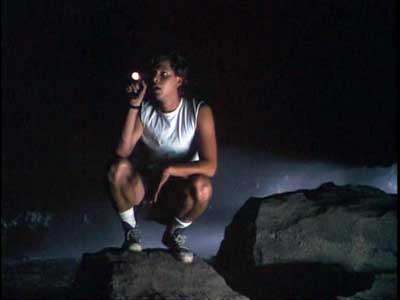 Benny looks around the group's underground cave campsite.
This movie, White Wolves: A Cry in the Wild II, is set in the wilderness areas of the Cascade Mountains in Oregon. As the film opens we see a school bus driving to the base camp and inside are two groups of kids and two teachers about to embark on a two week expedition. The film soon focuses on just one of the groups, the White Wolves, led by their enthusiastic teacher, Jack or Mr. B (Matt McCoy). The rest of the group includes Scott (Mark-Paul Gosselaar), the strongest of the teenagers (especially considering that he must have been about 22 when this was filmed) and a natural leader, Cara (Amy Dolenz) a campus queen type who has a somewhat condescending attitude about the others, Adam (David Moscow) who has a little bit of the class clown in him, but is also lacking in self-confidence, Pandra (Amy O'Neill), Cara's naive younger sister, who was a last minute substitution on the trip, but made to go by her parents so she could spend some "quality time" with Cara, and Benny (Marc Riffon), a kid from the wrong side of the tracks, but asked to go on the trip by Jake, who has been mentoring him as his Big Brother. (Benny's father is currently in prison).
Benny and the others prepare to break camp.
The two groups split up when they reach base camp, with the idea that they will meet again in several days. The White Wolves' group trip involves rafting down a mountain river, and then climbing up a very steep peak where there is an incredible view of the entire region. As the trip progresses we begin to learn about each of the participants, as described above, and see how they interact. Benny is embarrassed when after revealing in confidence to Pandra that his father is in prison, she tells it to Cara, who later accuses him of stealing her power bars from her backpack. He is also reluctant to be on the trip, as he doesn't feel comfortable with the others, who are from affluent families. Of the other teens, Scott seems to be the most optimistic about the trip; he is genuinely interested in nature and exploring the wildness. Cara and Adam are the most skeptical about the trip, complaining about the difficulties and hardships of it, although Adam tends to make jokes about everything. Jake (Mr. B) does a good job of keeping everyone on task and doing his best to neutralize any negatives that crop up among the group members. When they complain at one of their campsites about how difficult this trip is, Mr. B tells them the tale of the white wolf, who helped him when he was stranded in the wilderness as a kid due to a plane crash, and he had to survive by himself for days, while pursued by a marauding bear.
Pandra, Cara, Adam and Benny argue about who should scale the cliff to retrieve Jake's backpack.
When the group reaches the top of the mountain, everything seems worthwhile as they all delight in the fabulous view overlooking both sides of the Cascades. Adam and Cara are so happy that they start doing a little dance. But their joy soon turns to horror when Cara slips, and as Adam lunges to help her, he accidentally knocks Jake off the cliff, and Mr. B falls down several hundred feet below. In shock, the teens are besides themselves. Scott decides the thing to do is punch Adam out, while Benny stares over the edge in disbelief. The girls are screaming at Scott to stop, and finally Benny yells at everyone to calm down because they must start working together to find Mr. B, who if still alive needs medical help. Luckily Benny remembers the direction that Jake fell, so that they can fix the location with their compass to find it below. Then the five begin the arduous task to climbing back down the mountain, and looking for the location when they believe Jake has landed. Although they are able to find Jake's backpack the next day on the cliff where it fell, they still can't locate Mr. B. until Benny spots (you guessed it) the white wolf who points out a trail to follow. When they are finally able to locate him, they have to figure out a way to move him and bring him back to a place where he can be rescued by a medivac unit before he succumbs to his injuries. This involves retracing their steps through some very arduous territory, dealing with nature and wild bears. To do this the five teens have to cooperate with each other, become self-reliant, and pool what knowledge and resources they have. The balance of the film is how this effort turns out.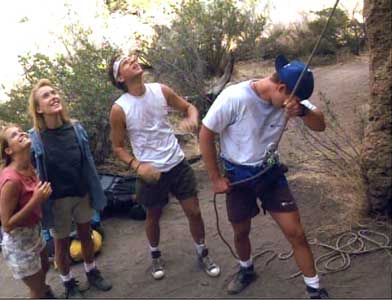 Cara, Pandra, Benny, and Scott are pleased when Adam reaches the top of the cliff.
White Wolves: A Cry in the Wild II is a good film for home viewing, especially if you have a big screen television so you can enjoy the scenery. As mentioned above it is formulaic in nature, but if you like the formula, you will like this film. The actors are are competent journeyman from various television and film projects, the film has beautiful cinemaphotography, and occasionally the actors actually get to act. Clearly the decision was made to keep this in the "family" genre, so not a lot of attempt was made to get into the characters beyond what you would normally expect in this kind of action/adventure, and their arguments and disagreements are pretty innocent. If you are looking for a film that advances new twists on survival adventures or concentrates on coming of age issues, look elsewhere. This film concentrates more on the tenuous relationship that our modern society has with nature. Traveling through an unspoiled wilderness area is an important life experience for teenagers; most always those who do experience it benefit from it. At least you would hope that they gain a small appreciation for nature and a desire to see it protected from unscrupulous developers or those who would strip away its resources. And that's why films in this genre are worth checking out, if only to spread that subliminal message.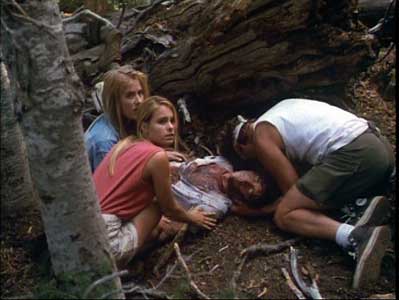 Pandra, Cara, and Benny are shocked when they finally locate Jake.
Best Chucks Scene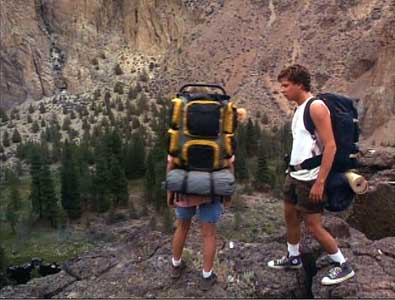 Pandra and Benny decide to cross over a lava rock field to reach help quicker.
In the various films reviewed on this site, we have seen black high top chucks worn in the Amazon jungle, walk the streets of New York's Hell's Kitchen, traipse through medieval England, raft down the Mississippi River, time travel on the face of a postage stamp, and trek through the Sahara Desert. So it's no surprise to see them successfully traverse through the wilderness areas of the Cascade Mountains, ride the rapids, and scale mountain peaks. In White Wolves: A Cry in the Wild II, the cinematography is chucks-friendly and we see Marc Risson in his role of Benny wearing black high tops throughout the film. And chucks seem pretty practical in the wilderness: after all they are light weight, quickly dry out after getting wet, and do have good traction. Plus they look great in the beautiful scenery of the Cascade Mountains. The best scenes are when Benny and Pandra go off on their own to locate help for their seriously injured teacher.
Benny and Pandra are frustrated when they come to the edge of a cliff.
White Wolves: A Cry in the Wild II. (1993) Amy Dolenz, David Moscow, Mark-Paul Gosselaar, Marc Riffon, Matt McCoy, Amy O'Neill.
Written and directed by Catherine Cyran. Categories: Action/Adventure, Family, Teenagers.
ChucksConnection Rating:

MPAA Rating: PG
Support the film industry by purchasing genuine DVD, Blue Ray, or streaming copies of these films. Illegal copies only help profiteers. Make sure your money goes to the producers and artists who actually create these films. Still images from the film are used here as teasers to get you to view an authorized copy. If you have information about a film where a main character wears chucks, contact us at films@chucksconnection.com.