A ChucksConnection TV Series Feature
John Stamos wears black high top Converse "Chuck Taylor" All Stars in the series.
You Again?
John Stamos and Jack Klugman starred as a father and son facing the generation gap in You Again?
This series, which was based on the British television show Home to Roost, is about Henry Willows (Jack Klugman), a divorced supermarket chain executive whose quiet and peaceful existence is suddenly shattered by the return of his seventeen-year-old son, Matt (John Stamos), who he hadn't seen for ten years. Matt wore chucks, chased girls all the time, and had an attitude about things that put him in constant conflict with his conservative father. Underneath all of the yelling, which was interspersed with salty comments from Hank's British housekeeper Enid (Elizabeth Bennett), Hank and Matt developed a genuine affection for each other.
Harry shows Enid and Matt his latest adverstising campaign slogans.
Many of the story lines for the show revolved around Matt's activities at the local community college where he is taking classes. In one episode, Matt has gotten a job as the early morning disk jockey on the college radio station. He convinces Harry to sponsor the entertainment for a dance at the college but doesn't tell Harry he is actually sponsoring a "Kiss-like" heavy metal group. Everything is going on smoothly, until a pressure group spokesman shows up and threatens a boycott of Henry's company unless they revoke their sponsorship because the group is opposed to the letting students see the heavy metal group booked to play the dance.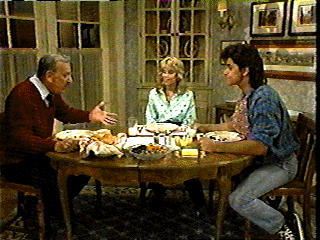 Harry meets Maggie Davis, Matt's new girl friend.
In another episdode, Matt falls for a new girl friend he met at the college who seems to be the perfect companion until Harry stumbles onto the fact that she is a secret alcoholic. Enid figures into the story lines from time to time, and in one pivotal episode toward the end of the series run, Enid is almost denied her citizenship papers because it turns out that Harry never paid any employment taxes on her salary.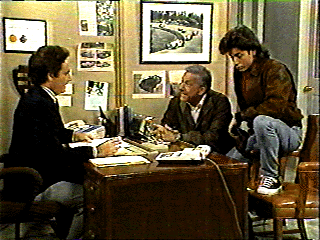 Harry negotiates with the salesman to buy a used car for Matt.
Do you know of other television shows or series where a main character wears Converse All Star Chuck Taylors? Can you describe a favorite episode or two from the series, or do you have additional information about the shows described here already? Do you have videotapes, DVDs or shot captures of episodes from any of the series that haven't been given an in depth article on this site? If you do, email us at chucksphotos@chucksconnection.com and we will add the information to the television pages.