A ChucksConnection Film Review
Brad Renfro wears black high top Converse "Chuck Taylor" All Stars in the film.
The Cure
by Hal Peterson
The opening shot of The Cure shows you that chucks are going to play a role in this film.
The Cure has to be one of the all time best films featuring Converse Chuck Taylor black high tops. There is great chucks photography throughout, as you can see from the title shot above, and the classic sneaker even has significance to the plot. The Cure is a story about two lonely, adolescent boys, living next door to each other in a small Minnesota town who form an unlikely friendship. Erik, portrayed by Brad Renfro and the chucks-wearer, is a recent arrival from the south living with his embittered, newly divorced mom (Diana Scarwid) and separated from his father, who has remarried a much younger woman and remained in New Orleans. Erik and his mom do not communicate well anymore; she generally ignores him, leaving him to be a latchkey kid most days and evenings. When they are together, she tends to be critical of Erik's behavior — wondering why he isn't interested in connecting with some of the local kids on the block or the "right" kids at school or going to summer camp to meet new friends, instead of playing Nintendo by himself. She also warns him to stay away from that kid next door with AIDS. As the film opens, Erik is an emotional tinderbox ready to ignite: neglected by his parents, bored at school, mocked by schoolmates as "Gomer Pyle" for his southern accent, and called "faggot" because of the fact that he lives by "that boy with AIDS".
Dexter (Joseph Mazzello) is suffering from the HIV virus which he contracted as a result of a blood transfusion received when he was an infant. An intelligent and sensitive boy, he is isolated by the effects of the disease which has stunted his growth, and the fears of the community that he will somehow infect them with the virus, even through the most casual encounters. Dexter also lives in a single parent family with his mom (Anabella Sciorra) who tries to keep a brave face on things while she acts as both a friend and mother. There is no mention in the film anywhere of Dexter's father, which seems to be a curious omission, given the life and death nature of the film's subject matter. Erik and Dexter meet because of their mutual loneliness and the proximity of their backyards. The unexpected friendship that they develop and how it dramatically changes each of their lives and personalities during one brief summer is the focus of the film. Both Renfro and Mazzello deliver riveting performances in these roles. You soon discover that Erik and Dexter possess complex character traits and motives, something very unusual in a Hollywood movie about kids. Their on-screen charisma dominates this film from start to finish but it never seems overacted or out of character.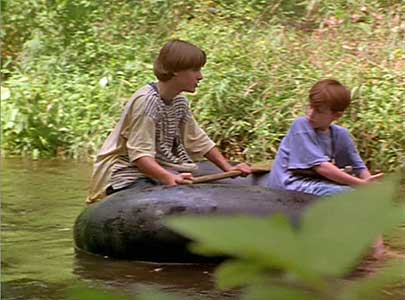 Erik takes Dexter on his first tube ride.
Conceptually, The Cure strikes you immediately because of two unusual features of its design: its adolescent viewpoint which directly influences all plot elements and twists; and its minimalism which is seen in its small palette of characters, lack of outside influences, and withheld or unsaid information. The adolescent viewpoint gives the plot some interesting twists that reflect the new realities of how information is passed on to the younger generation of our society. Erik and Dexter decide to start searching for the cure on their own after they watch the video Medicine Man, and they decide to seek out Dr. Fishburn's cure in New Orleans because they believe an article printed in a supermarket tabloid is actually true. The film also incorporates typical experiences of adolescents — the inability to gain acceptance with the "in crowd", standing up to a bully, impulsive decision-making that turns to failure, escaping to the world of nature, or being punished for the wrong reasons — as plot elements. If you focus on the inconsistencies of the plot as some of the critics did, you have forgotten that a plot based on adolescent viewpoints and decision making is by nature going to be an illogical plot to an adult. In this sense, The Cure seems to have a lot in common with dramatic forms like opera, where plot development is not the dominant feature necessary for the success of the work and tragic endings are common. What makes these works compelling is how they give you aesthetic satisfaction through the artistry of the performers, their production values, and direct appeal to your emotions.
Best Chucks Scene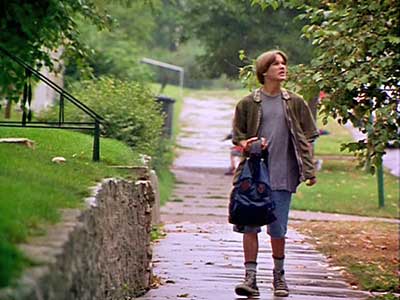 Erik walking home and wishing he had some friends in town.
Actually this film has four great scenes, due to the outstanding cinemaphotography work of Andrew Dintenfass, with especially innovative closeup work throughout. In the opening sequence of the film, you first see the persona of Erik at school gradually emerge from his black high tops as the camera slowly pans up to include his face, then awkwardly travel through the schoolyard, poorly interact with some of the school's "in crowd" who make fun of him, and finally walk home through the town while viewed in the background of different people's activities.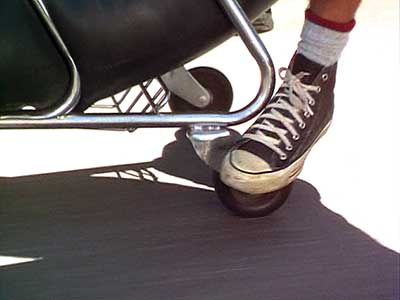 Erik proving that it pays to wear the shoe that won't slip and slide.
In the second scene, Erik and Dexter have just stood up to some bullies from school, and after Erik throws a rock at one of them, find themselves hurtling down a steep hill in a shopping cart with no way to slow down, stop, or avoid traffic and pedestrians. There is a great closeup shot of Erik using his left chuck to brake the wheel of the cart as he desperately tries to avoid colliding with a garbage truck.
The third and fourth scenes, which take place toward the end of the film, involve critical points of the plot, and it would spoil the experience of someone who hasn't yet seen the film to reveal these here. However, they merit discussion, so if you have seen The Cure, or don't mind spoilers, click here to see the rest of this review.
The Cure. (1995) Brad Renfro, Joseph Mazzello, Annabella Sciorra, Diana Scarwid, Bruce Davison.
Directed by Peter Horton. Categories: Drama, Coming of Age
ChucksConnection Rating:

MPAA Rating: PG-13
Support the film industry by purchasing genuine DVD, Blue Ray, or streaming copies of these films. Illegal copies only help profiteers. Make sure your money goes to the producers and artists who actually create these films. Still images from the film are used here as teasers to get you to view an authorized copy. If you have information about a film where a main character wears chucks, contact us at films@chucksconnection.com.