Great Chucks Scenes from The Cure, continued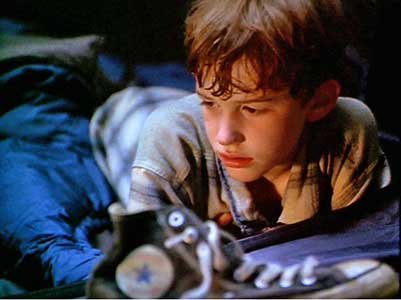 Can an All Star help you face the final frontier?
The third great chucks scene occurs after Erik and Dexter have given all of their money to boat owner Pony to take them to New Orleans. But when Pony and his friend pick up a couple of girlfriends along the way, Erik and Dexter are soon shunted off to the shore, while Pony and company set anchor and plan to party for a couple of days. Meanwhile, Dexter is running out of medication and the virus takes a turn for the worse. When Dexter wakes up in the middle of the night in a cold sweat, Erik tries to comfort him, and Dexter confides to Erik the real depth of fear that he has been experiencing. Tensely, Dexter describes his recurring nightmare of flying eighteen billion light years across the universe into an empty void, but never able to return back to the reality of earth when he wakes up. Erik, in his most emotional dialogue of the movie, tells Dexter, "Here, hold on to my shoe. Although it's just a smelly old basketball shoe, if you were out in the middle of nowhere would you be hanging on to this? When you wake, you will realize that this is Erik's shoe, and that you are back on earth, with your friend Erik close by."
This scene represents an important transformation of character for both boys; they truly become surrogate brothers. Dexter admits that beyond all his intellectualizing and cheerful demeanor he really is afraid of dying and needs a friend for support through the difficult times ahead. Erik assures Dexter that although all he has to offer is his companionship and literally the clothes on his back, he is willing to share them whenever it will help.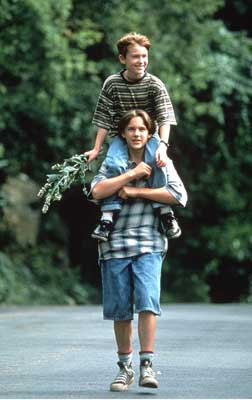 Erik and Dexter become great friends.
The Cure is ultimately a tragedy, but not a gut wrenching one because of the growth that you witness in both Erik and Dexter as a result of their friendship. One of the most artistic effects of the film is the mirror-imaging of their character traits, as Dexter becomes more extroverted and shows real leadership in the friendship while Erik becomes more introspective and thoughtful. After Dexter passes away, there are four final scenes that express some strong emotions and provide some resolution. The first of these is when Erik and Dexter's mom are grieving in the car on the way back from the hospital and Erik says that he is sorry that he didn't try harder to find the cure to Dexter's disease. She tells him, "Don't you understand, you were the cure, because your friendship was a real comfort to Dexter in his final days." The second is the amazing confrontation between the two moms.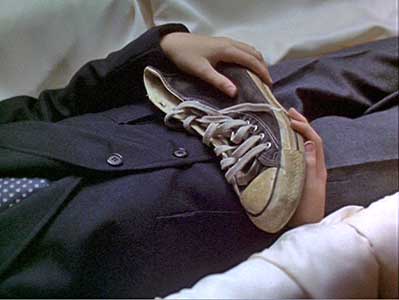 From here to eternity, guided by Erik's shoe.
The final two scenes form an emotional coda to the film. As the camera zooms in, Erik and Dexter's mom are together in the funeral home, looking on at Dexter in open casket. "Take all the time you need," she tells Erik. We see Erik say "Hey. . .", and then poke at Dexter's chest down to the xiphoid process area of the sternum, in imitation of the procedure that doctors use to determine if someone is alive, but mercifully the camera cuts away to the funeral parlor. This is an excellent conceit on the director's part, allowing Erik to have some privacy. Later, we are able to reconstruct a little of what went on, after Erik is shown leaving the viewing room and walking out onto the porch. Dexter's mom comes up to comfort him, and Erik asks if it okay for him to walk on home by himself. She notices that he is walking kind of funny, but instead of mentioning that she says, "I hope you'll come around and visit sometime." He looks back at her as she is compulsively twisting her hair, weakly grins, and says "25 cents", a reference to the fines that Dexter used to assess her for this kind of behavior. After Erik leaves, she walks back into the viewing room and sees that Erik has left one of his Converse Chuck Taylor basketball shoes in Dexter's hands (just like in the campfire scene) and that he has taken one of Dexter's dress loafers. She smiles, not knowing exactly what this means, but realizing that it must be something significant to Erik and Dexter's friendship. (The audience of course knows what the gesture refers to.)
As the film closes, the scene changes to the riverside, and we see Erik, feet in the water, launch Dexter's loafer into the river and watch it begin to float on its way to the Mississippi. Through his actions Erik seems to be saying, "If your spirit needs to return to the reality of earth, here is my shoe again to guide your way back. Then float down the river one more time with your friend Erik."
May your chucks someday provide you with the same comfort as you reflect on the timeless theme of this film:
True friendship is a rare and special commodity that changes lives forever.
If you can possess it for even the most brief moment, it will serve you for a lifetime.
The Cure. (1995) Brad Renfro, Joseph Mazzello, Annabella Sciorra, Diana Scarwid, Bruce Davison. Directed by Peter Horton. Categories: Drama, Coming of Age
ChucksConnection Rating:

MPAA Rating: PG-13
Return to The Cure main review.
Support the film industry by purchasing genuine DVD, Blue Ray, or streaming copies of these films. Illegal copies only help profiteers. Make sure your money goes to the producers and artists who actually create these films. Still images from the film are used here as teasers to get you to view an authorized copy. If you have information about a film where a main character wears chucks, contact us at films@chucksconnection.com.