A ChucksConnection Film Review


Frankie Muniz wears black high top Converse "Chuck Taylor" All Stars in the film.


Agent Cody Banks 2: Adventure in London

By Brandon L. Summers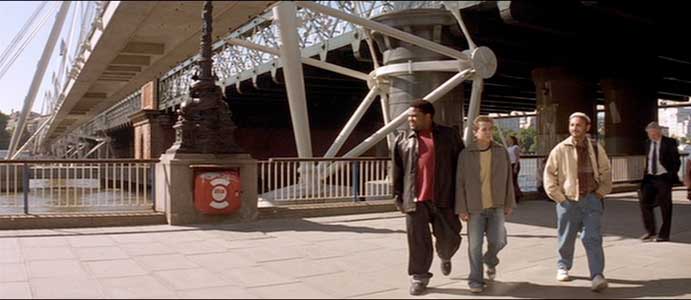 Cody is supported in London by CIA operatives Derek and Kumar.
The film begins with Cody (Frankie Muniz) at summer camp. It's actually a CIA camp to the train the agents in their kids program, but when the parents arrive for Parents Day, it appears to be a normal camp. As soon as they get back to learning about super-computers and missiles, the camp is sieged! It turns out the CIA, conveniently, keeps its super-weapons under the camp. A villain named Diaz (Keith Allen) has stolen a mind-control device. His boss (Keith David) sends Banks to England to find Diaz, discover his plot, and then thwart it. His cover: he'll be a music student at a posh school, run by Lady Kenworth (Anna Chancellor), wife of Lord Kenworth (James Faulkner), one of Diaz's evil contacts. Cody is partnered with Derek Bowman (Anthony Anderson), who is from Compton and refers to Central London as a "backwater." He is, what movie executives call, "black." Banks follows Kenworth and Diaz, confirms that they do have the mind-control device — they use it to make a dog play the piano well (an important distinction) — and will use it at the Queen's event to control important government officials and the President of the United States.
Cody meets the CIA version of "M", who gives him an automated clarinet.
Most of Banks' time, though, is spent covering the fact that he doesn't know how to play a musical instrument, which can be damaging when you are undercover at an advanced music school. He meets a charming girl named Emily (Hannah Spearritt, from TV's "Primeval"), who, it turns out, is with Scotland Yard. Derek poses as the school's new chef, and promptly knocks things over and makes messes in the kitchen. At one point, the villains get Cody, implant a mind-control chip in his teeth, use him to get close to the kid's boss, take control of him, and use the man to take over everyone at the queen's party. Cody is freed with explosive Mentos, a spy gadget/product placement, but later Bowman is taken over. Ultimately, Diaz is stopped. There's no real ending, because no matter what friendships he's made, Cody has to go home to Seattle, and no matter what his accomplishments, he was a secret agent. So... back to camp, having had a slight adventure.
Cody rapels his way up the side of the mansion where he is staying.
Agent Cody Banks 2 is lame potatoes. Not just for cynical, sarcastic adults but especially for kids. The action is meek, the jokes and gags bomb, and it's so devoted to its mediocre plot it lags. It only meekly panders to youth audiences. The acting is awful. Muniz is noticeably uninvolved and particularly uncharismatic. He plays Cody as an island. Anderson mugs shamelessly, which he often does, but here he almost seems ashamed for it. Spearritt is charming, but she contributes nothing, even after she's revealed to be a fellow agent. But worst, it is incredibly offensive. Not only are we treated to horrible English stereotypes (Tally ho! Cheerio! Hail Britannia!) but also offensively simplistic Indian and African stereotypes. In a world where kids can see the very diverse, rich English culture in the vastly superior Harry Potter films, this film is transparently false. And how could this film compete with Robert Rodriguez's Spy Kids films, which are filled with humor, joy and top action? In such a market, there is no place for a weak product with exceptionally low ambitions.
Cody makes his way on the top of a roof.
Best Chucks Scene


Cody has descended down a chimney to spy on Diaz.
Throughout the film, Cody wears his chucks because he's young. He particularly wears them while investigating Diaz, crawling down a large chimney to do some surveillance.
The camera focuses on Cody's chucks, as he climbs on the roof of a mansion.
Agent Cody Banks 2: Destination London. (2004) Frankie Muniz, Anthony Anderson, Hannah Spearritt, Cynthia Stevenson, Daniel Roebuck, Anna Chancellor, Keith Allen.
Directed by Kevin Allen. Genres: Comedy, Family, Action/Adventure.
ChucksConnection Rating:

MPAA Rating: PG
Support the film industry by purchasing genuine DVD, Blue Ray, or streaming copies of these films. Illegal copies only help profiteers. Make sure your money goes to the producers and artists who actually create these films. Still images from the film are used here as teasers to get you to view an authorized copy. If you have information about a film where a main character wears chucks, contact us at films@chucksconnection.com.