A ChucksConnection Film Review
Daryl Sabara wears red high top Converse "Chuck Taylor" All Stars in the film.
Spy Kids
By Brandon L. Summers
The Cortez family is put to the test in Spy Kids.
Spy Kids is the best children's feature of the 21st century to this point. More than that, it is also a superb action film. Ingrid and Gregorio Cortez (Carla Gugino and Antonio Banderas) are former spies who fell in love and retired to start a family. This back story alone would make an excellent action film. Their two pre-teen children Carmen (Alexa Vega, 12) and Juni (Daryl Sabara, 8) are perfectly normal siblings who bicker, tease and fight. Carmen resents having to care for Juni sometimes, and Juni wishes his father were more attentive. But, they all love each other.
Juni and Carmen are waiting in a park.
When spies begin disappearing, Mom and Dad are called back into action. The kids are left in the care of their Uncle Felix (wonderful Cheech Marin) and investigate. They find that the spies are being kidnapped by children's television host and Juni's hero Fegan Floop (fun Alan Cumming) who, with his sidekick Alexander Minion (awesome Tony Shalhoub) are transforming the spies into the colorful creatures on his show. They're looking for something called The Third Brain, which the spies all worked on. The brain will be used to give intelligence to robot children called Spy Kids, which will replace the kids of high ranking politicians and leaders and such. Thus, world domination. With their parents kidnapped, it's up to Carmen and Juni to become impromptu spies and save the day. They find the brain, fight Floop's Thumb-Thumbs, lose the brain, fight their robot duplicates, and meet their real uncle, Machete (Danny Trejo!). The junior spies infiltrate Floop's lair, discover that Minion is the real villain, thwart his fiendish plot, and even reunite their father with his estranged brother. The end result of their mission is that they're an even stronger family.
Juni and Carmen go with their Uncle Machete.
In 2001, Spy Kids was an unexpected project from Robert Rodriguez, then known as the director of Desperado and From Dusk Till Dawn. It is smart and fast, colorful and fun. Much of its success is due to Rodriguez's action sensibilities and style. It's especially distinguished by the fact that it shows real kids as being capable and smart, and not pre-programmed with product placements and forced to spout "edgy" cliches. There's no "Talk to the hand!" or "Booyah!" inserted here.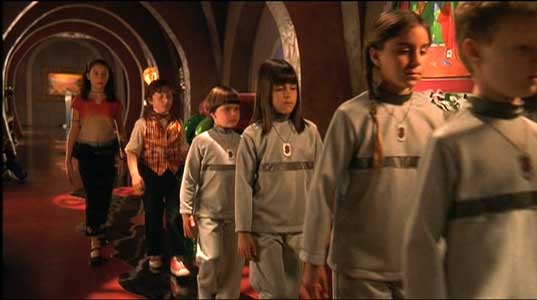 Juni and Carmen follow in a line of robot-like kids.
Like most things, it has its problems. The action gets a little too manic. The plot is a little too convoluted, and familiar to us older folks. The messages about family are a little heavy-handed. And the special effects are often too big. These problems actually got worse with Rodriguez's later family film efforts, like Spy Kids 3, Shark Boy and Lava Girl and Shorts, which spoils this film by proxy. But compared to dreck like Agent Cody Banks, derivative pandering junk like Percy Jackson, and inexcusable trash-product like Alvin and the Chipmunks, this should be in the Criterion collection. The best thing about Spy Kids now is that it introduces the character of Machete (a pissed off Mexican with a score to settle!), who recently got his own R-rated, ultra-violent film. Not only does he appear in all three films of the series, but is also promised to return in this (or next) year's Spy Kids 4, as well as Machete Kills!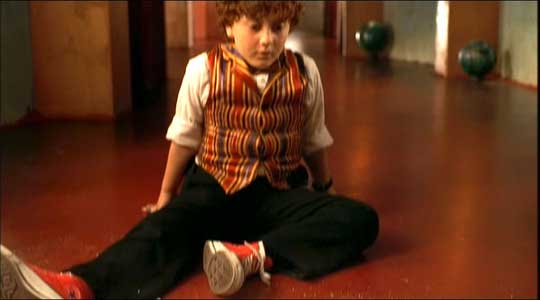 Juni ends up on the floor of Fegan Floop's mansion.
Best Chucks Scene
Juni takes a moment to lace up his red high top chucks.
Once they've infiltrated Floop's island lair, our kids gear up for action. For Juni, that means lacing up his red high top chucks, which are highlighted throughout the film. Rodriguez also used red chucks to emphasize reckless action fun in Sin City, one of the best comic book films of all time.
Juni is pulled up into the air.
Spy Kids. (2001) Robert Patrick, Antonio Banderas, Carla Gugino, Alexa Vargas, Daryl Sabara, Tony Shalhoub, Teri Hatcher, Cheech Marin, George Clooney.
Directed by Robert Rodriguez. Categories: Family, Action/Adventure.
ChucksConnection Rating:

MPAA Rating: PG
Support the film industry by purchasing genuine DVD, Blue Ray, or streaming copies of these films. Illegal copies only help profiteers. Make sure your money goes to the producers and artists who actually create these films. Still images from the film are used here as teasers to get you to view an authorized copy. If you have information about a film where a main character wears chucks, contact us at films@chucksconnection.com.